Bluetooth V5.0 with Qualcomm aptX HD decoding

Wirelessly transmit lossless and high-definition music signals, so that Bluetooth playback can obtain the same music quality as wired digital transmission.

Continuous Undistorted Power

The continuous undistorted power is treble 15Wx2 RMS plus mid-range bass 50Wx2 RMS, which can effortlessly express vocal scenes of large spaces.

Professional Wireless Remote Control

It comes with wireless remote control for convenient volume adjustment, audio source switching, mode selection, switch on and off.
Refurbished S2000MKIII
Regular price

$699.99

Sale price

$479.20
IR remote control
Planar diaphragm tweeters
5 ½" aluminum diaphragm drivers
PVC side panels with matte black finish
Bluetooth V5.0 with Qualcomm aptX HD decoding
High-efficiency Class-D digital power amplification
Listening presets: Monitor, Dynamic, Classical, and Vocal
OLED LCD screen displays source, volume, sound effects modes
Digital audio signal with a sample rate up to 24BIT/192KHZ
Electronic crossovers and dynamic control based on dual advanced DSP chips
90 Days Warranty
Free Shipping Over $49.99
For Replacement Only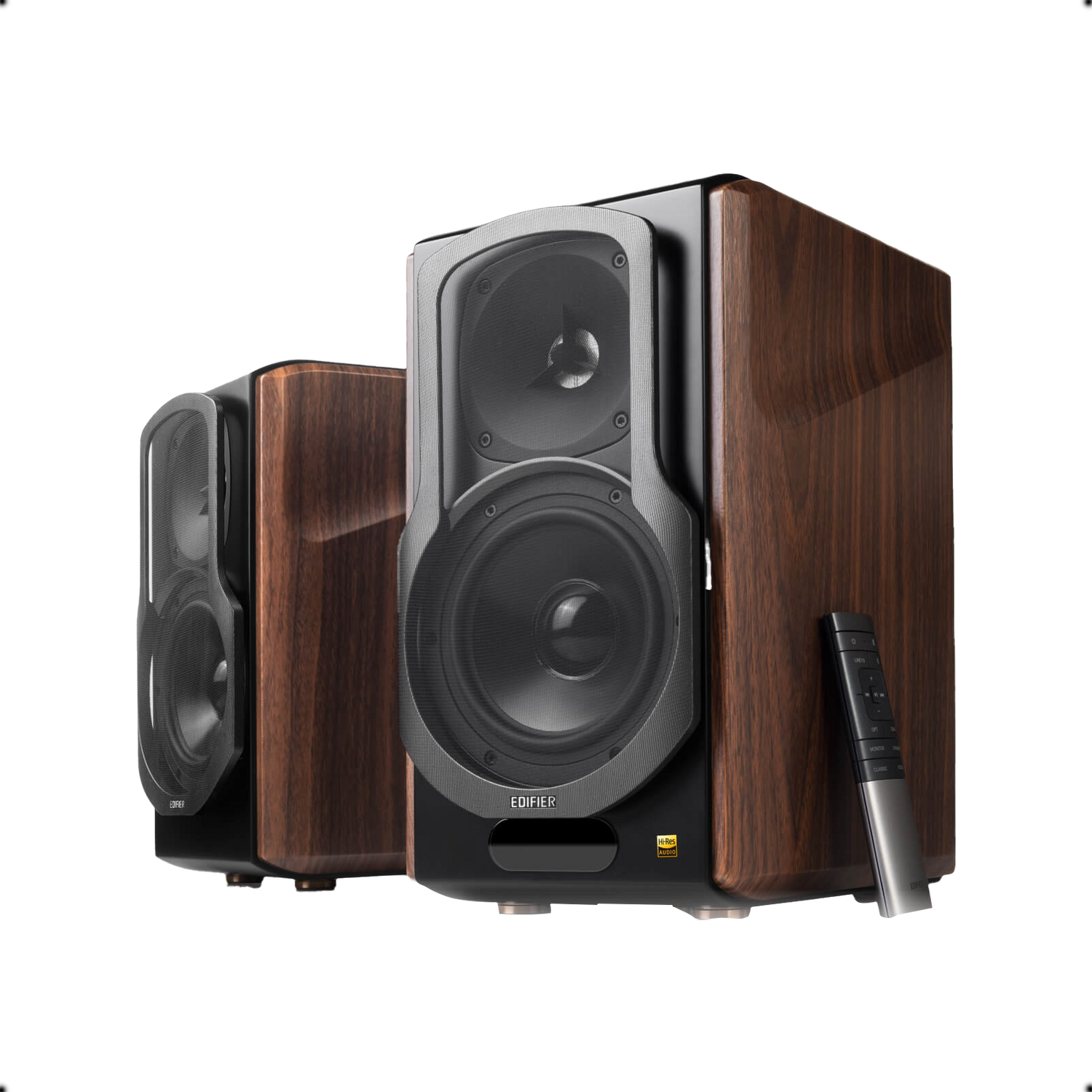 Dual DSP Digital Audio Processing
Two professional digital processing DSP chips to independently manage the electronic frequency division and dynamic management of the high-pitched and medium-bass channel, to precisely control the frequency distribution and fully release the characteristic advantages of the high-pitched and low-pitched units.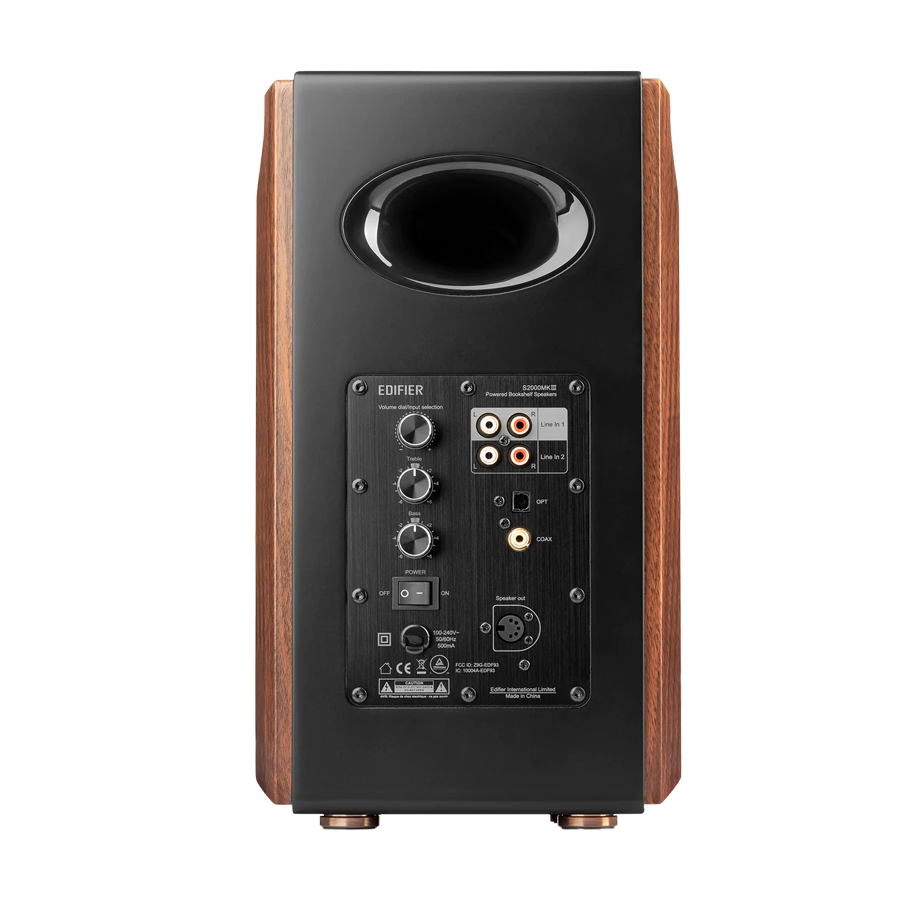 Multi-Input, Simultaneously Connected
Edifier's active speakers allows for hooking up multiple devices to the same speaker. In addition to Bluetooth connection, we also have wired digital input plus wired analog input to permit interfacing to multiple devices such as TV sets, TV boxes, Blu-ray players, game consoles, CD/DVD players, smartphones, computers, tablets, and other devices.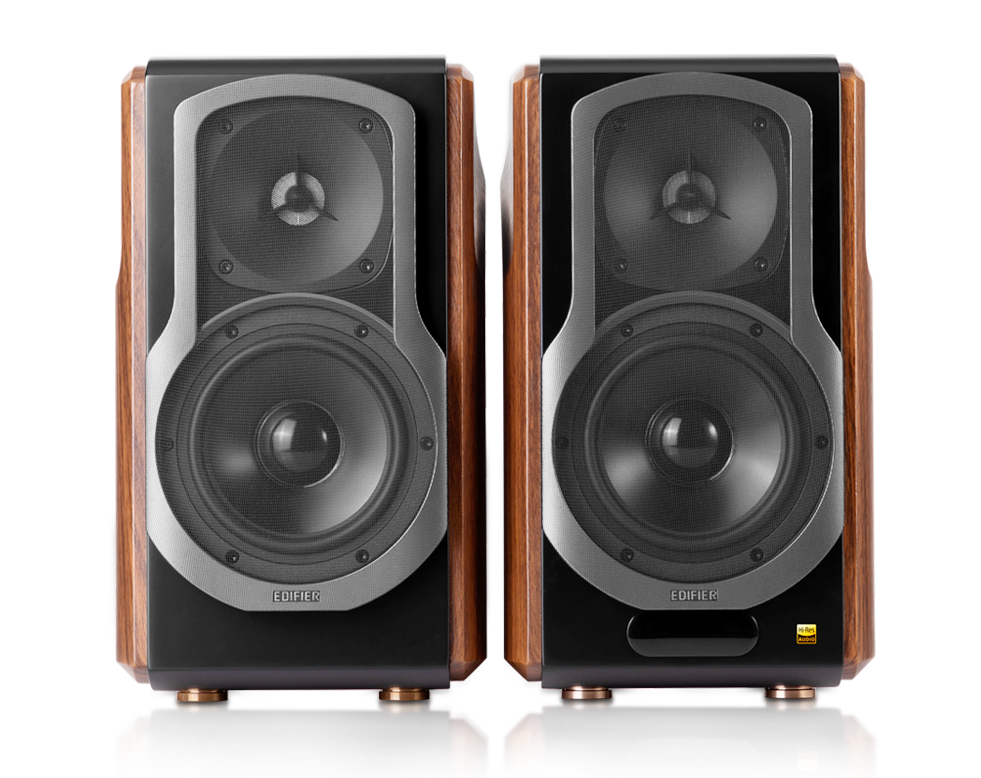 Switch Between Four EQ Preset Modes
Swap between four EQ preset modes (Monitor, Dynamic, Classical, and Vocal) with the press of a button. These four sound modes will highlights distinctive tones in varying genres of music and audio.
Treble, Bass, and Volume are Individually Adjustable
The treble, bass, and volume are individually adjustable. 50-level high-precision adjustment of the master volume, and smart startup volume protects both your hearing and the speaker from harm. The speaker casing is made out of a wood veneer while the knobs are made from metal and have a professional-grade feel.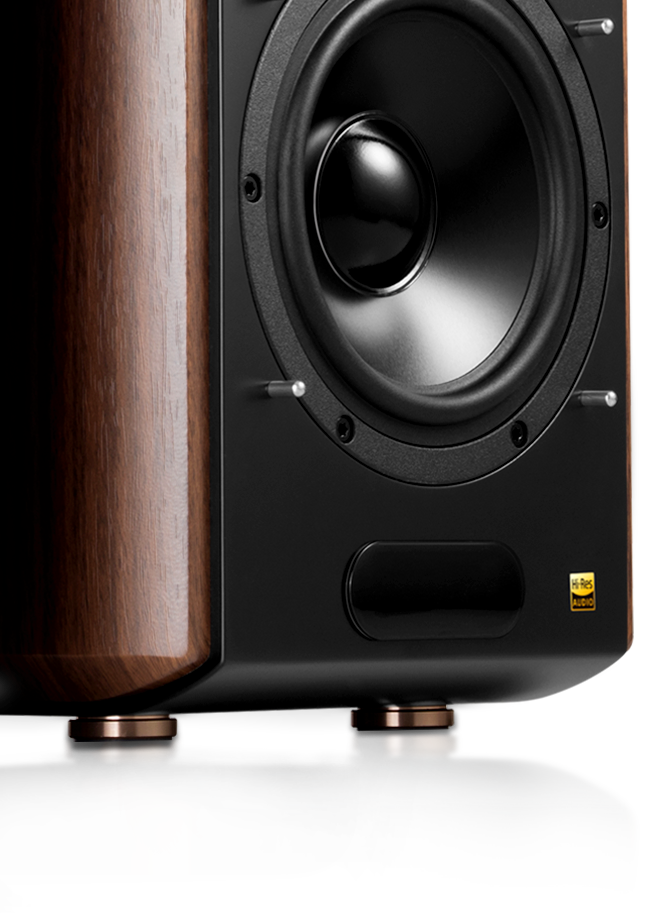 Digital Display is Intuitive and Clear
Display selected input status of the speaker (source, sound effect modes, volume) with a clear OLED LCD screen, all you need to do is take a look at the LCD screen, and you'll know exactly which input you are on.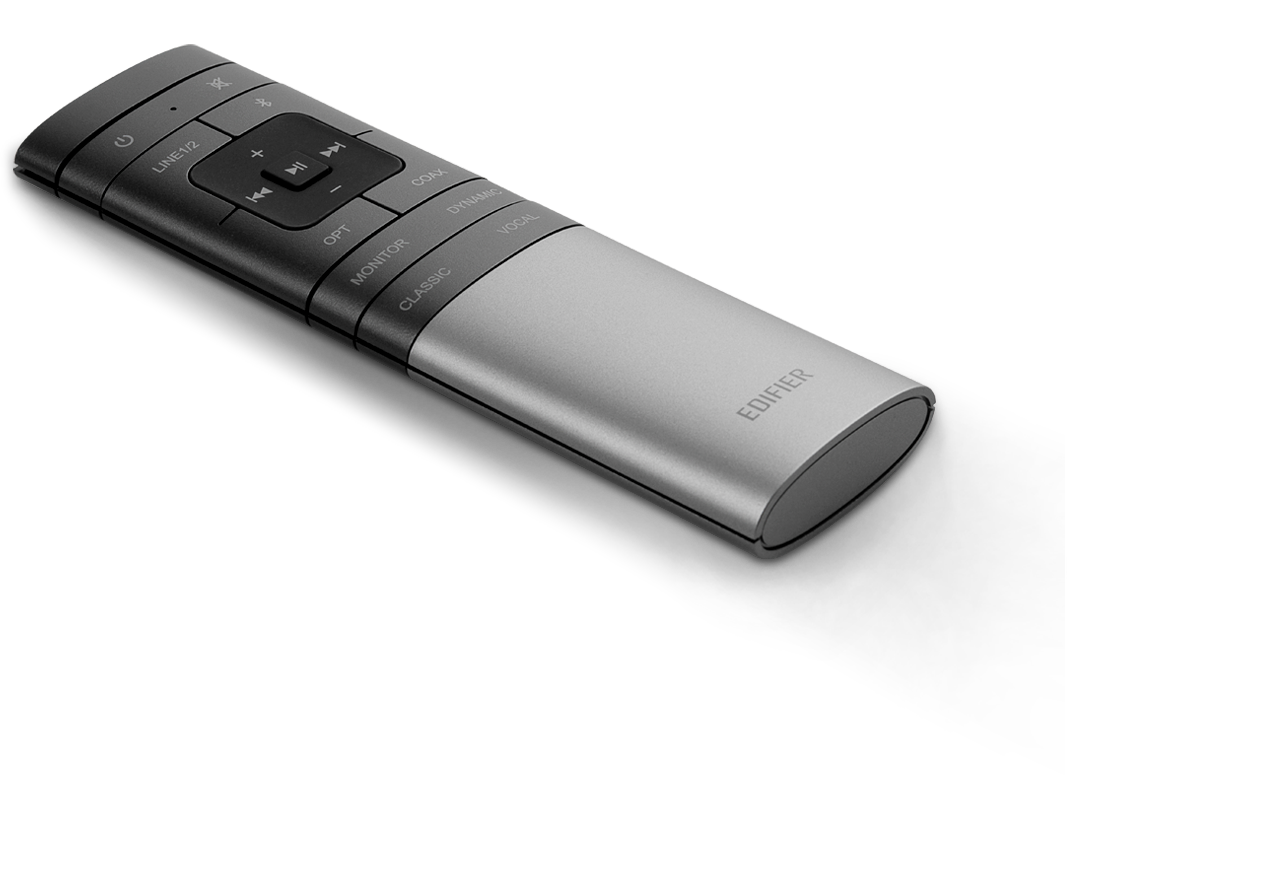 Wireless Remote Control
Equipped with remote control for your convenience. Now you can adjust volume, switch sound source, select mode, and power on/off the speaker wirelessly, free you from the hassle of the constant press on the speaker's buttons.
INCLUDED IN THE BOX
User Manual
Remote Control
3.5mm-RCA Audio Cable
RCA to RCA Cable
Fiber Optic Audio Cable
Speaker Connecting Cable
SOUND

SIGNAL-TO-NOISE RATIO

NOISE LEVEL

FREQUENCY RESPONSE
DESIGN
POWER

TOTAL POWER OUTPUT

L/R (treble): 15W+15W
RMS L/R (mid-range bass): 50W + 50W RMS
CONNECTIVITY

INPUT SENSITIVITY

Line 1 input: 800±50mV
Line 2 input: 600±50mV
Bluetooth input: 450±50mFFs
Optical/Coaxial input: 350±50mFFs
FAQs
Why can't I hear any sound?

Ensure that the power indicator light is illuminated.
Attempt to increase the volume.
Verify that the audio cables are correctly and securely connected.
Confirm that the input settings on the speakers are configured correctly.
Check if the audio source is actively delivering a signal output.
Why can't I connect my speakers via Bluetooth?

Confirm that your speaker is set to Bluetooth mode and disconnect any other paired devices.
Ensure that you are operating within a Bluetooth transmission range of no more than 10 meters.
Attempt to establish a Bluetooth connection with an alternative Bluetooth device.
Why can't I turn on the speakers?

You can activate the Edifier speakers using one of the following methods:

Connect the main power source to your speakers.
Switch on the wall outlet that your speakers are plugged into.
Why did noises coming from my speakers?

Transition the speaker system to active mode.
Disconnect the audio source.
Listen for any noises from a distance of 1 meter away. If no issues are audible at this distance, it suggests that the speakers are functioning correctly.
Why Buy from Us?
Authorized Retailer

Hassle-Free Return

Local Fast Shipping

30 Days Money-Back Guarantee
We are an authorized retailer of Edifier products, ensuring that you receive genuine and high-quality items directly from the manufacturer.
We offer a hassle-free return and exchange policy, allowing you to shop with confidence. If you need to cancel an order or make changes, we make the process easy and convenient.
We prioritize fast shipping, ensuring that your Edifier products reach you promptly and securely. As a local seller, we strive to provide a seamless shopping experience.
We stand behind our products. If you are not satisfied with your purchase, we offer a 30-day money-back guarantee, giving you peace of mind and assurance.