Works with Alexa

Connect speakers to your home Wi-Fi network, and control them with voice commands via third-party voice interaction.

Music Synchronized for Multiple Rooms

Group two or more speakers to form a multi-room music system. Enjoy synchronized music playback while wandering in the room.

Hi-Res Audio Technology

Listen to your favorite tunes in the highest quality possible with this speaker that offers up Hi-Res audio technology and a sample rate as high as 24bit/192kHz.
S1000W Wireless Hi-Fi Bookshelf Speaker
Regular price

Sale price

$699.99
Works with Alexa, supports AirPlay 2 & Spotify/ TIDAL connect
Audio Inputs: Wi-Fi, Bluetooth, Line In, Optical, Coaxial
Hi-Res audio technology
120W power output
5.5" mid-range/bass + 1" treble
1 Year Warranty
Free Shipping Over $49.99
30 Day Return Policy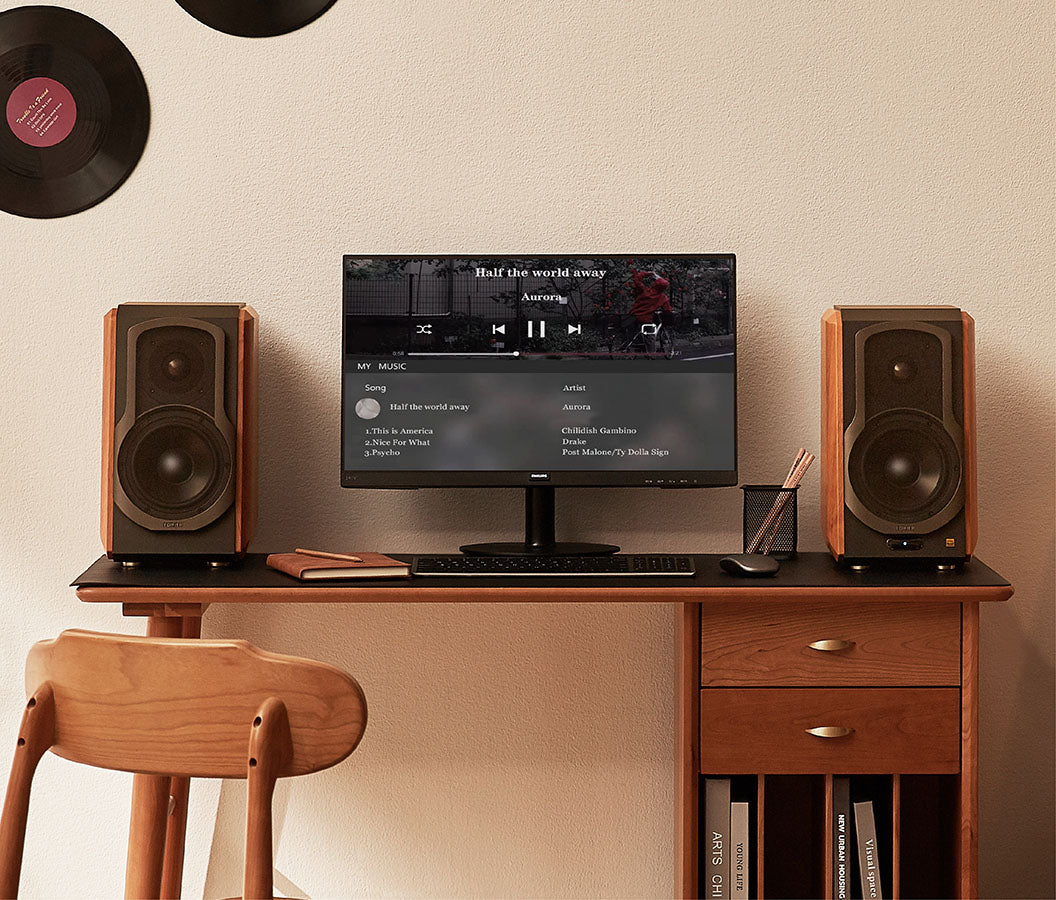 Works with Alexa, Supports AirPlay 2 & Spotify/TIDAL Connect
Simply connect this speaker to your home Wi-Fi network, and register your S1000W with your Amazon account through the Edifier Home App. By using a third-party voice interaction, you can use your voice to play and pause music, change tracks, adjust volume, and more.   Stream music directly from your iPhone, iPad, or Mac and enjoy Hi-Res audio from your favorite music app.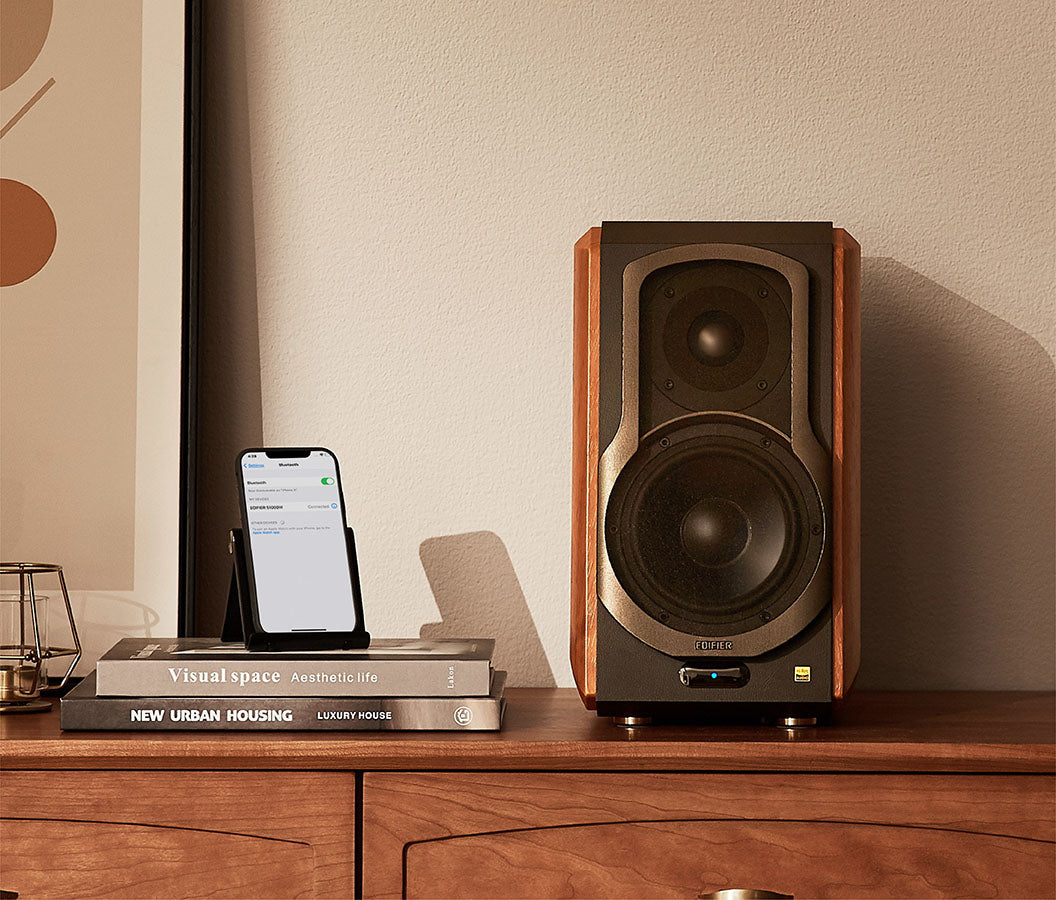 Bluetooth V5.0 + Wi-Fi Connection is the Future
It features both Wi-Fi and Bluetooth connections for your smooth listening needs as well as a stable transmission with low power consumption. The high-quality audio experience is what you can expect from this speaker.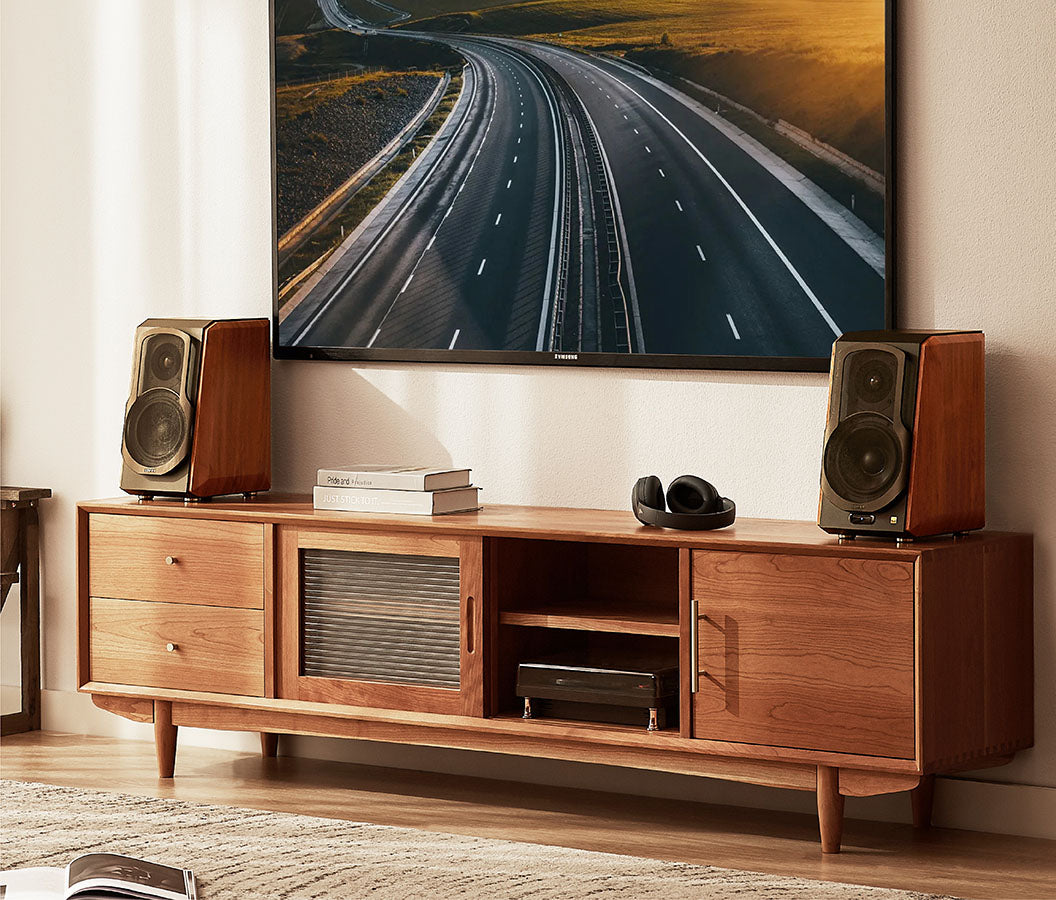 Top-Notch Sound Quality (120W)
These speakers feature 120 watts of power, so you can crank up the volume and enjoy your music, movies, and games to the fullest without distortion.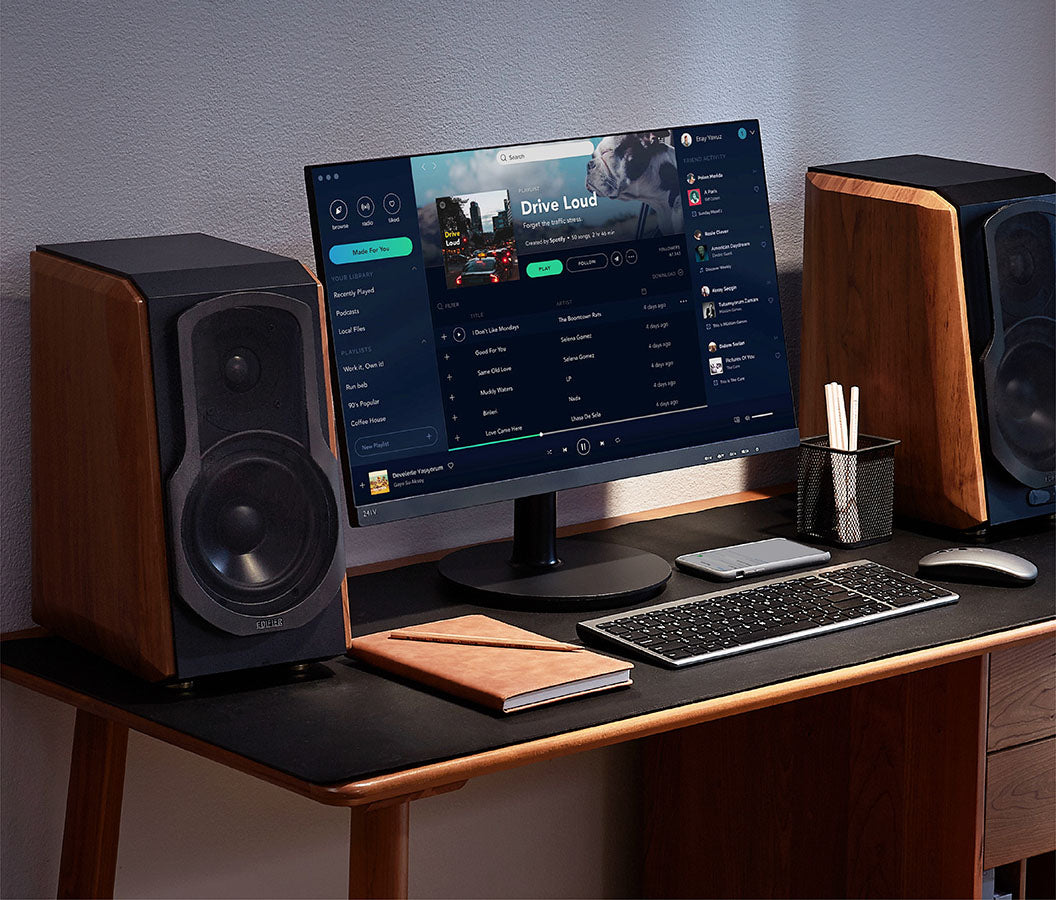 Multiples Inputs
The speaker supports all major connectivity options, including WiFi, Bluetooth, OPT, COX, and AUX. You can connect this speaker to any type of input.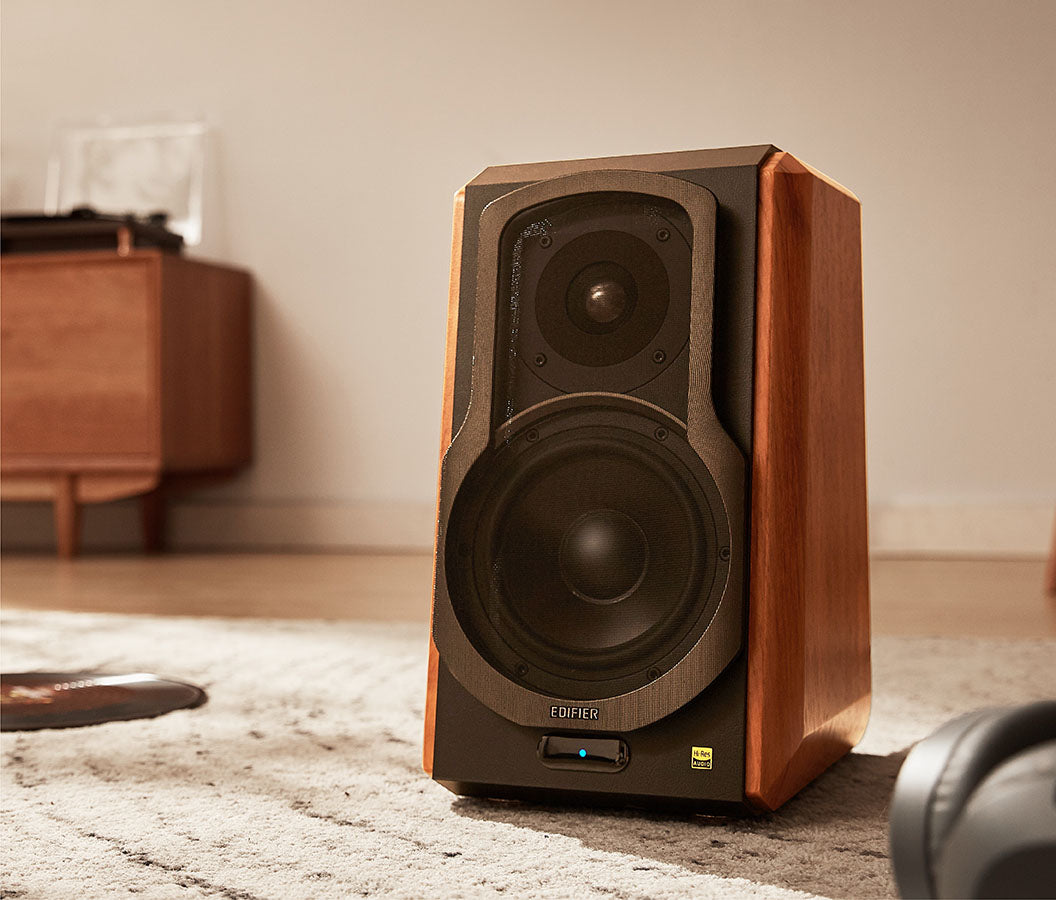 Angled For Acoustics
The angled design is made specifically for creating a larger sound with a low frequency. This design is incredibly robust, which makes it reduces the resonance of the sound. Attaching the grill of the S1000W reduces the attenuation so you can get the full strength of the sound signal.
Titanium Dome Tweeter
The S1000W has a titanium dome tweeter for creating a smooth response rate. The titanium also helps give an excellent dispersion and better sensitivity than plastic tweeters.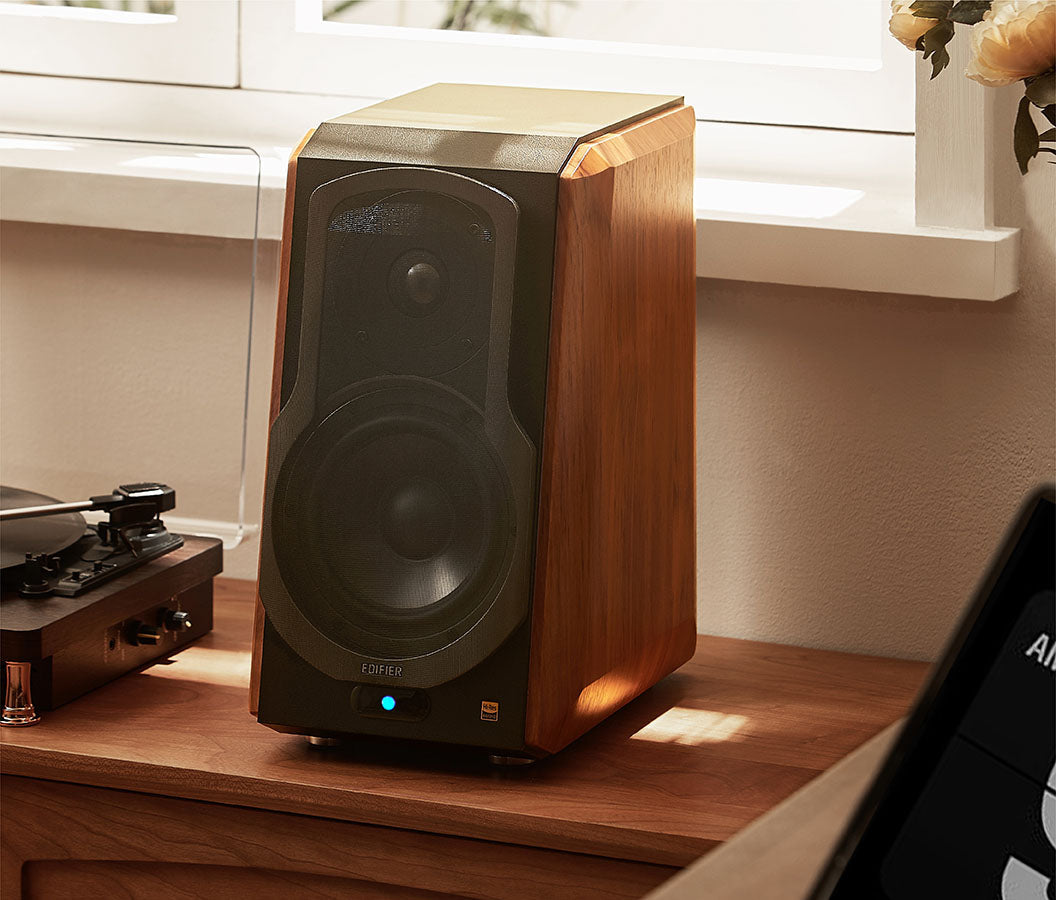 Digital Audio Processing
Using Texas Instruments DSP professional audio processing chip for accurate control of frequency division point, the speaker can better reproduce the sound detail.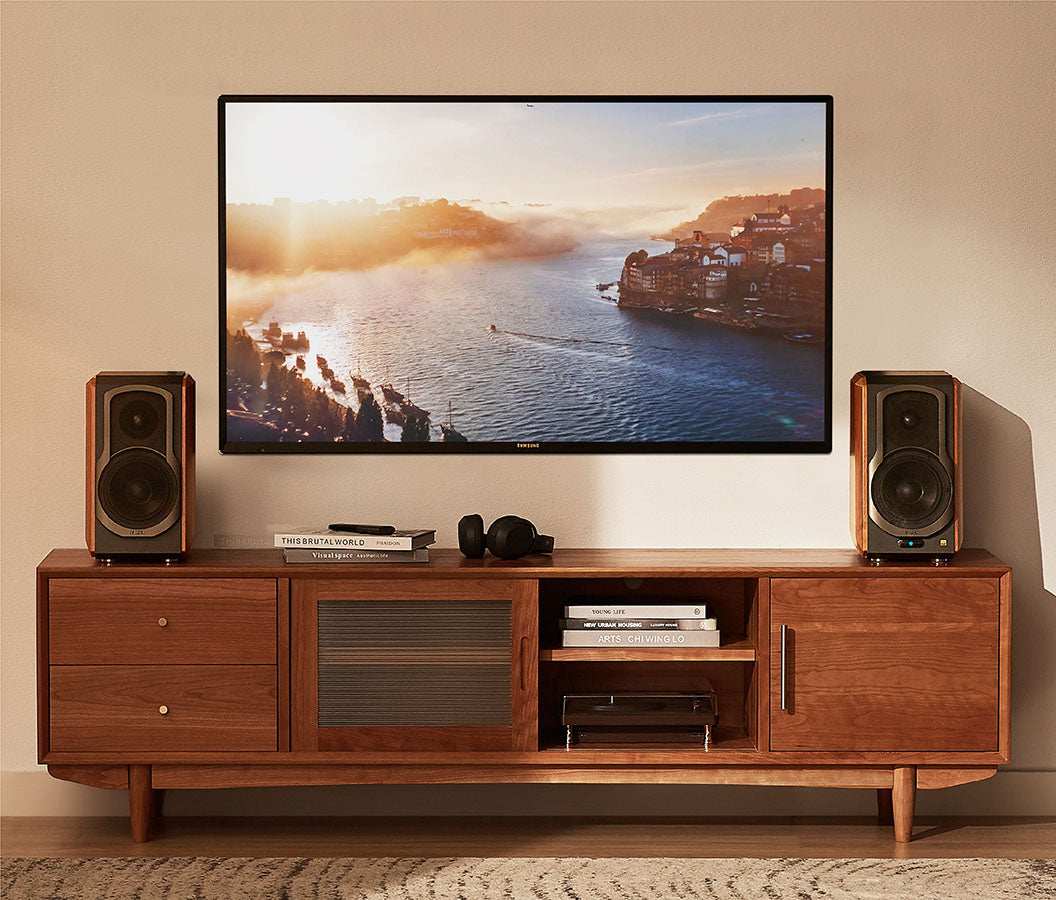 Aluminium Bass Unit
Crank up the volume with this stylish yet simplistic form factor with the 5.5-inch aluminum bass drivers. These drivers create a surge of bass for anyone looking to get the most from their sound.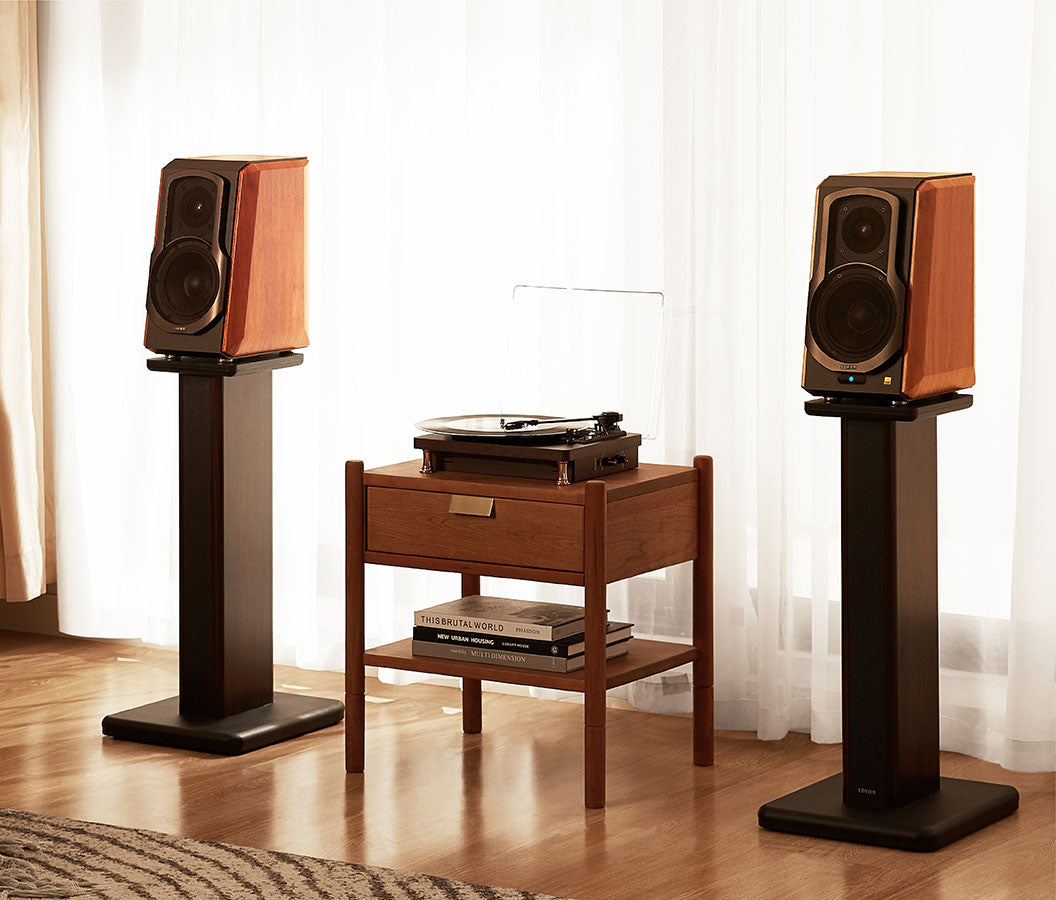 User-Friendly Control
It comes with remote control for your convenience to change the audio from anywhere in the room. Bass, Treble, and Volume control knobs are also available on the side panel of the speaker system should you require them. INCLUDED IN THE BOX
User Manual
Remote Control
Active Speaker
Passive Speaker
Power Cable
Speaker Connecting Cable
Fiber Optic Audio Cable
RCA to RCA Audio Cable
3.5mm-RCA Audio Cable
SOUND

FREQUENCY RESPONSE

NOISE LEVEL

SIGNAL-TO-NOISE RATIO

Optical/Coaxial

450±50mmV
Bluetooth: 500±50mV

DRIVER UNIT

5.5" (Mid-range/Bass) + 1" (Treble)
DESIGN

DIMENSION

7.8in x 13.6in x 11.6in (W x H x D)

NET WEIGHT
POWER

TOTAL POWER OUTPUT

35W X 2 (Mid-range/Bass)
25W X 2 (Treble)
CONNECTIVITY

INPUT TYPE

Wi-Fi
Optical
Coaxial
Line In 1
Line In 2
Bluetooth

BLUETOOTH VERSION

INPUT SENSITIVITY

Line In1: 700±50mV
Line In2: 500±50mV
FAQs
Speakers are connected to my turntable, but there is little or no volume.

Self-powered speakers require a Pre-amp to boost the phono signal to a line-level. Many modern turntables come with a built-in switchable pre-amp. Usually the switch to turn on the pre-amp is either on the back of the turntable, or underneath the platter. The switch is most commonly labeled Phono/Line, it will need to be in the Line position. To find out if your turntable has a built-in pre-amp please refer to the owner's manual, or contact the manufacturer.
Connecting a subwoofer with a pair of powered speakers that do not have a "Sub-Out"

Certainly, you can use a self-powered subwoofer with your powered speakers. To do this, you will need an RCA Y-splitter. Here's how to set it up:

Connect one set of RCA cables from the audio source to the powered speakers.
Connect the other set of RCA cables from the same audio source to the subwoofer.
Ensure that the subwoofer is self-powered (has its own built-in amplifier) since your powered speakers are self-powered as well.

Please note that if your powered speakers do not have a dedicated sub-out or low-pass filter, they will continue to play bass frequencies when connected to the subwoofer. You may need to adjust the crossover settings on your subwoofer to achieve the desired balance between the speakers and the subwoofer for optimal sound quality.
Pairing two Bluetooth sets of Edifier speakers to a device and use them at the same time?

Using dual Bluetooth audio with your speakers is possible, but it depends on whether your audio source supports this feature. To check if your audio source can output audio to multiple Bluetooth devices simultaneously, refer to the owner's manual of the device or contact the manufacturer for information on its Bluetooth capabilities.

If your device does not support dual Bluetooth audio, you can consider purchasing an external Bluetooth splitter transmitter. These devices can be found from various online retailers and allow you to connect multiple Bluetooth devices to a single audio source, like your speakers, by splitting the Bluetooth signal.
Speakers are connected to a turntable, the pre-amp is turned on, there is audio from one speaker, but none or a scratching noise out of the other.

This issue is usually caused by a tracking issue on the turntable. To test if it is the turntable at fault or the speakers, reverse the RCA jacks on the control speaker, red to white and white to red. If the issue now occurs on the other speaker, it is the turntable at fault. Please contact your turntable manufacturer for instructions on how to properly set the tracking. If the issue remains on the same channel it is problem. Please contact our customer service team for troubleshooting and assistance.
Why Buy from Us?
Authorized Retailer

Hassle-Free Return

Local Fast Shipping

30 Days Money-Back Guarantee
We are an authorized retailer of Edifier products, ensuring that you receive genuine and high-quality items directly from the manufacturer.
We offer a hassle-free return and exchange policy, allowing you to shop with confidence. If you need to cancel an order or make changes, we make the process easy and convenient.
We prioritize fast shipping, ensuring that your Edifier products reach you promptly and securely. As a local seller, we strive to provide a seamless shopping experience.
We stand behind our products. If you are not satisfied with your purchase, we offer a 30-day money-back guarantee, giving you peace of mind and assurance.