10 degree angled design

A unique 10 degree tilt directs sound more accurately at head level for an enhanced listening experience.

Luxurious MDF enclosure

A classic jet black look specially designed to reduce unwanted room resonance.

Sub out with a variety of inputs

Everything you need, including Sub out, Optical, Coaxial, Line-in and more
R1850DB Bookshelf Speakers with Subwoofer Output
Regular price

$259.00

Sale price

$220.15
10 Degree Angled Sound Design
Jet Black MDF Enclosure
Subwoofer Output
Treble, Bass, Volume Controls
Wireless Remote
1 Year Warranty
Free Shipping Over $49.99
30 Day Return Policy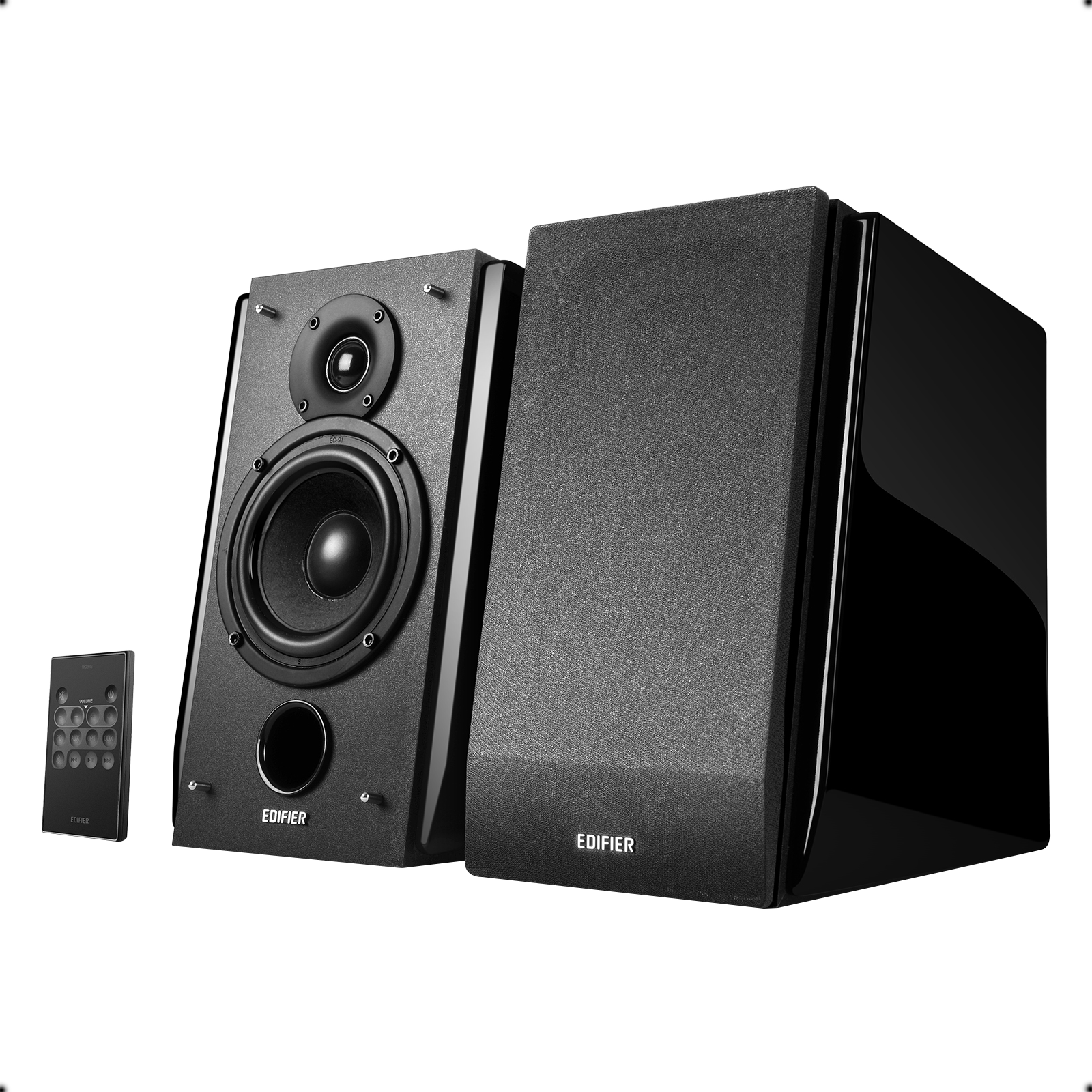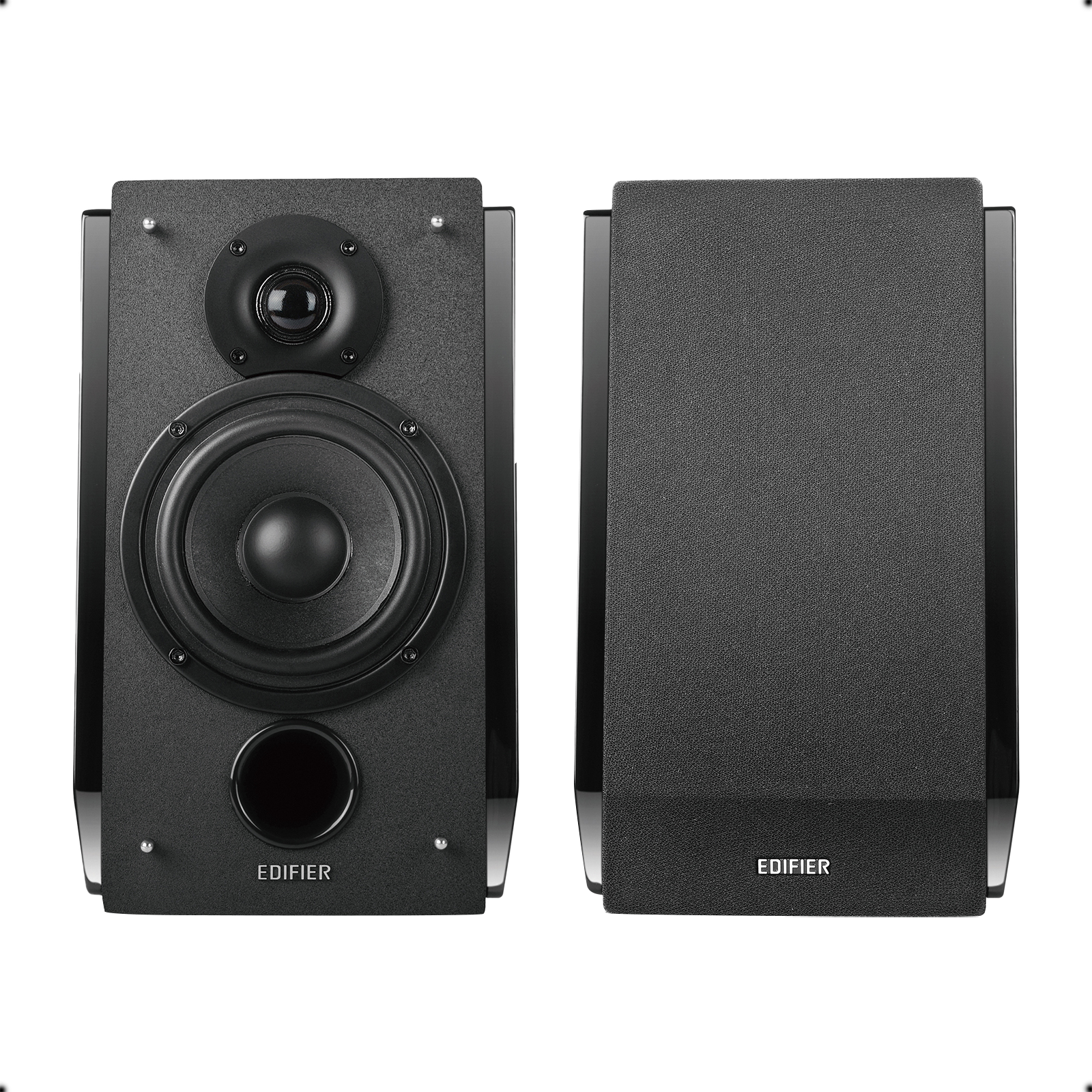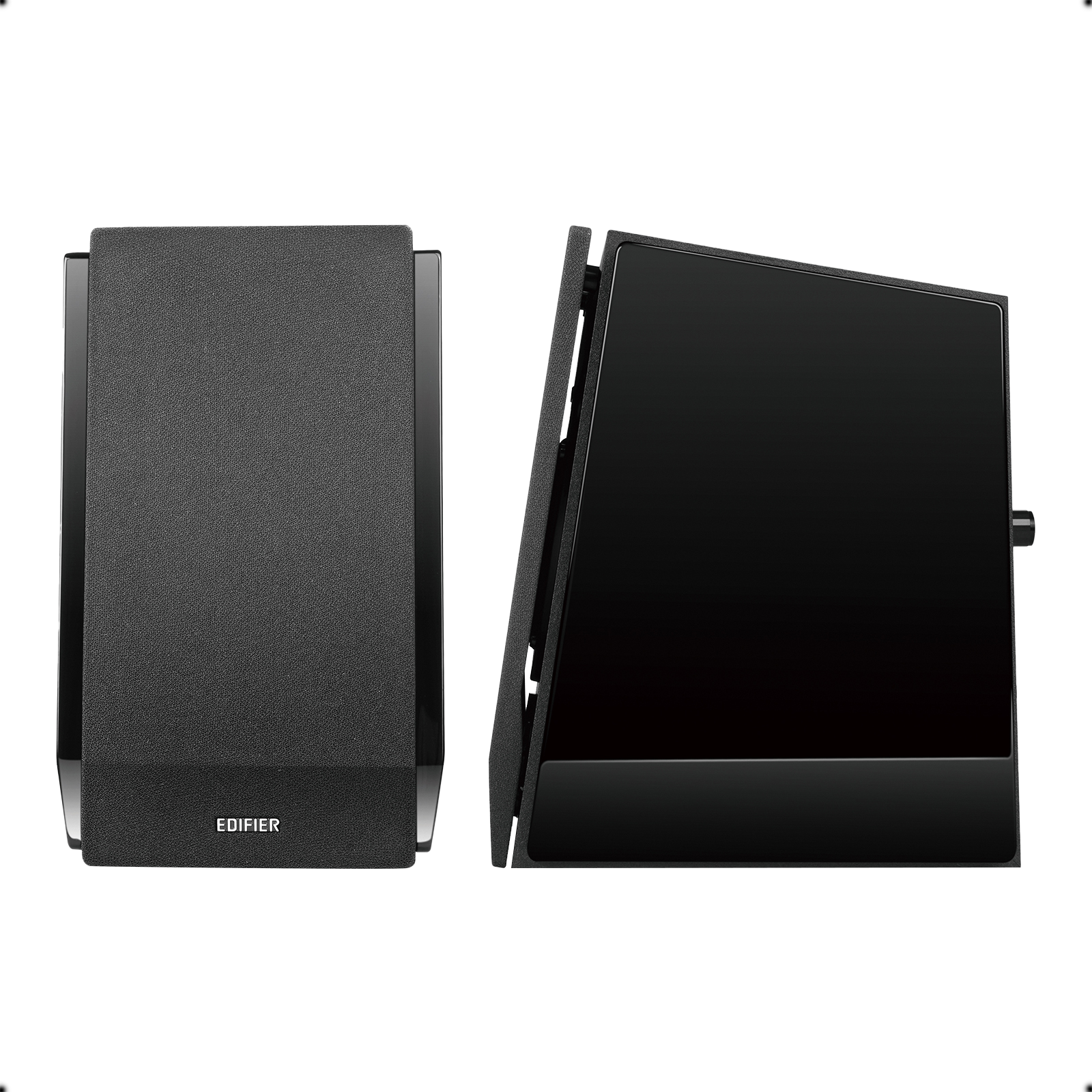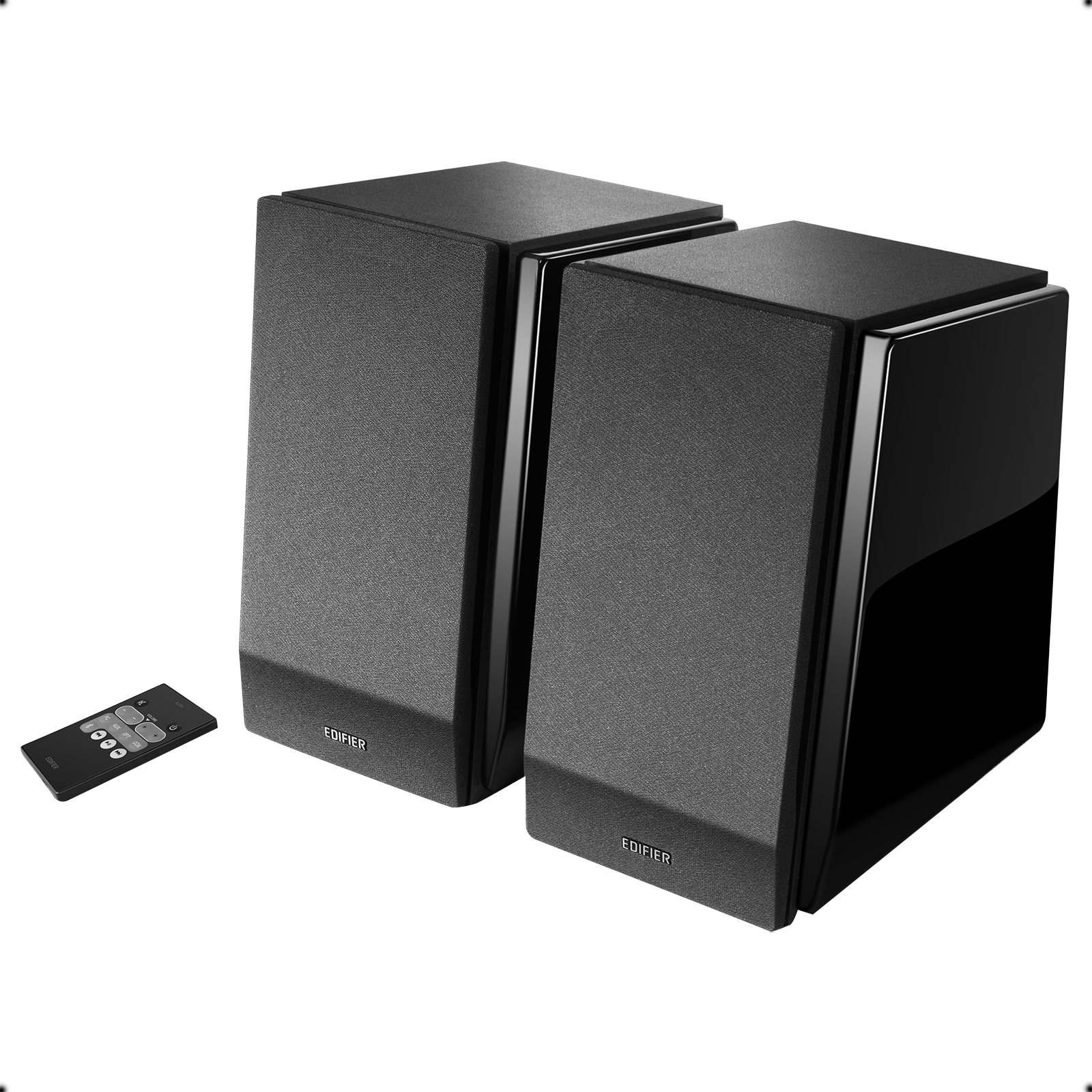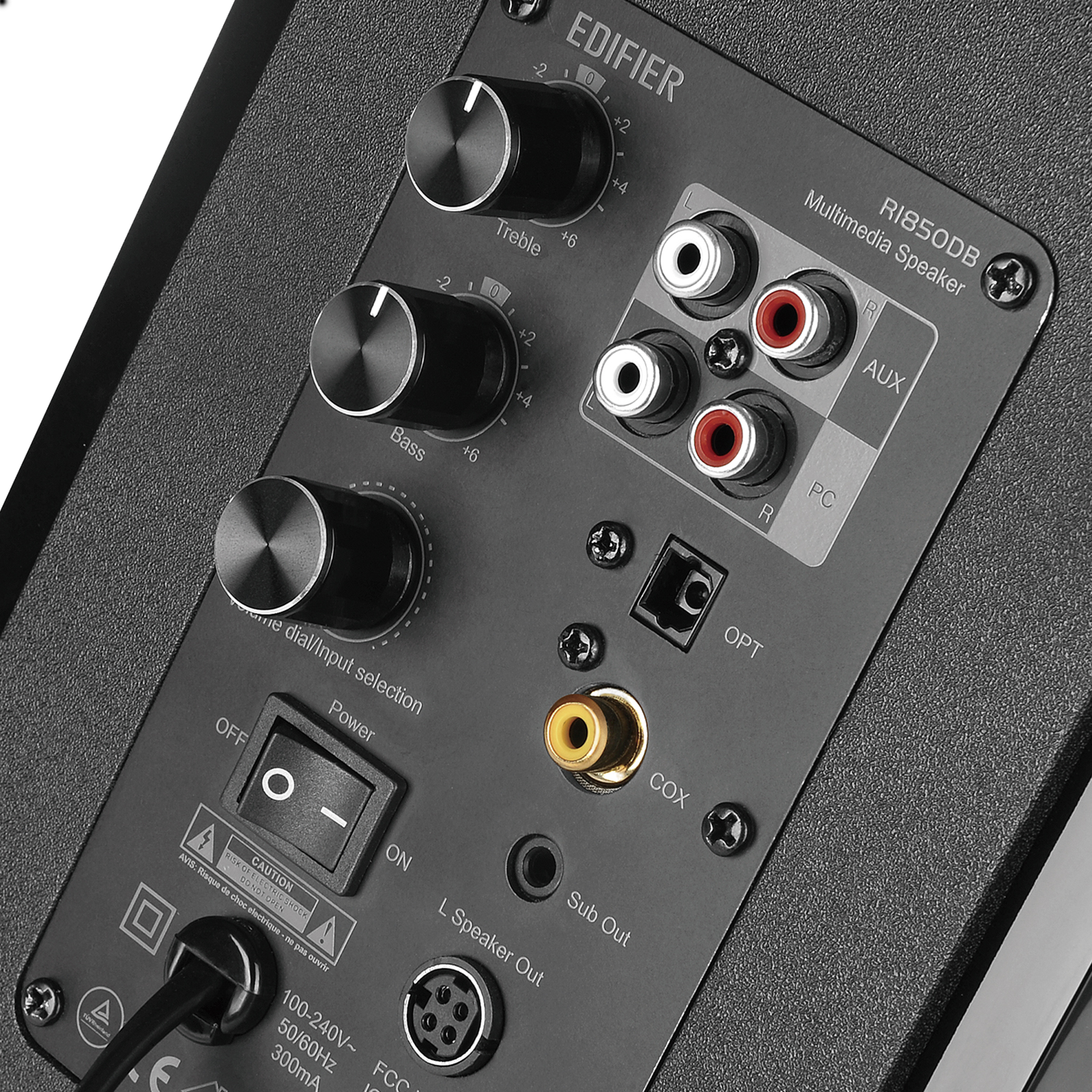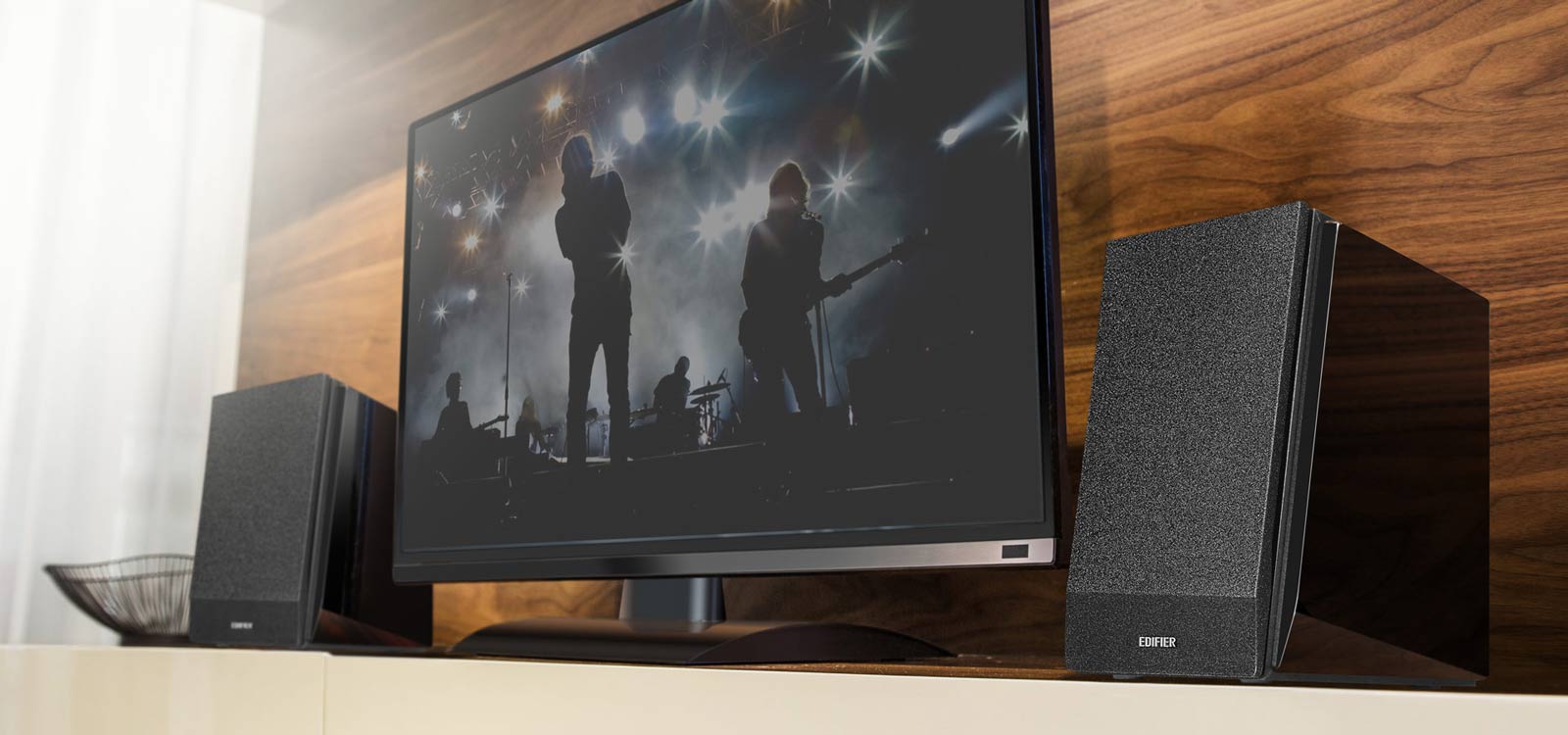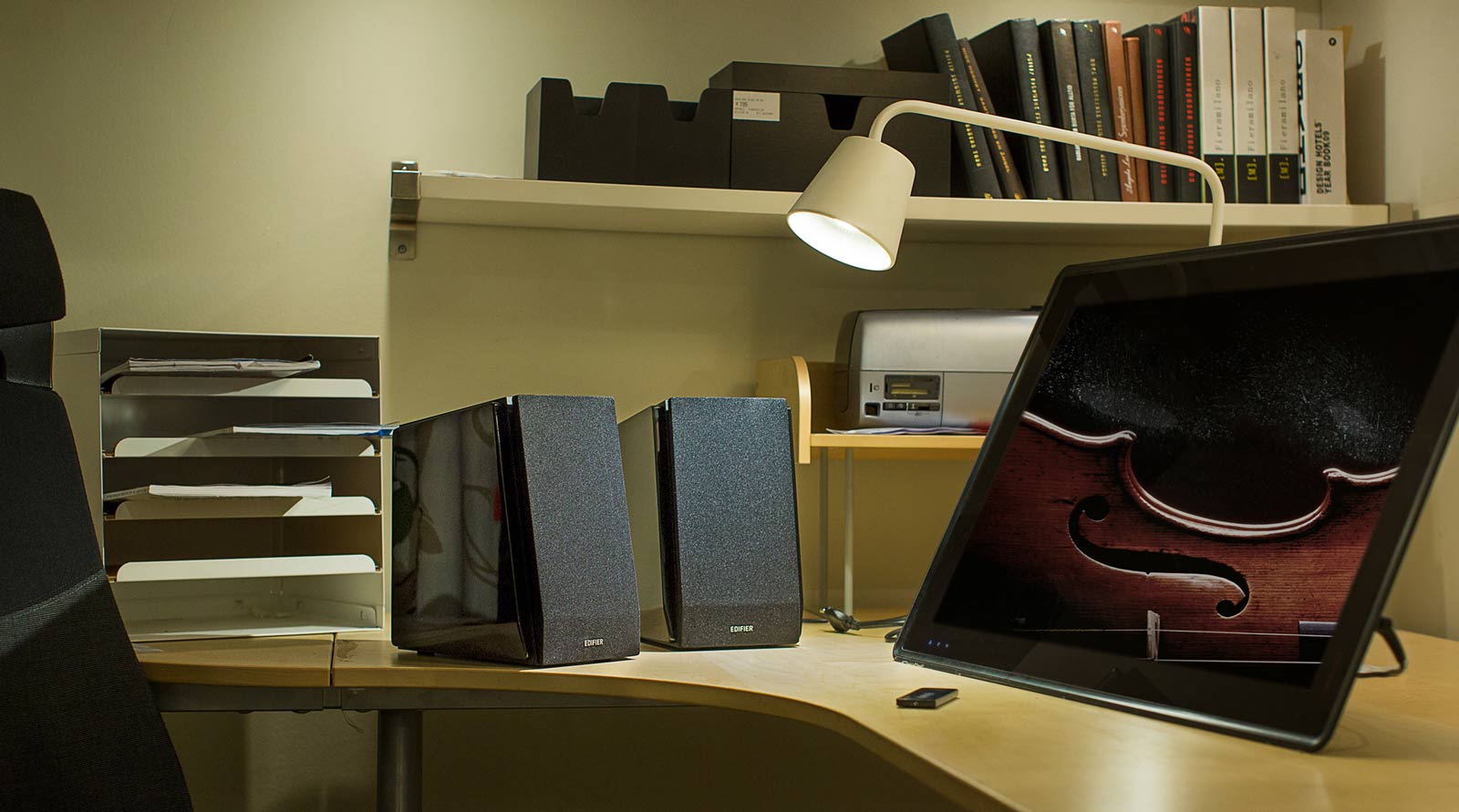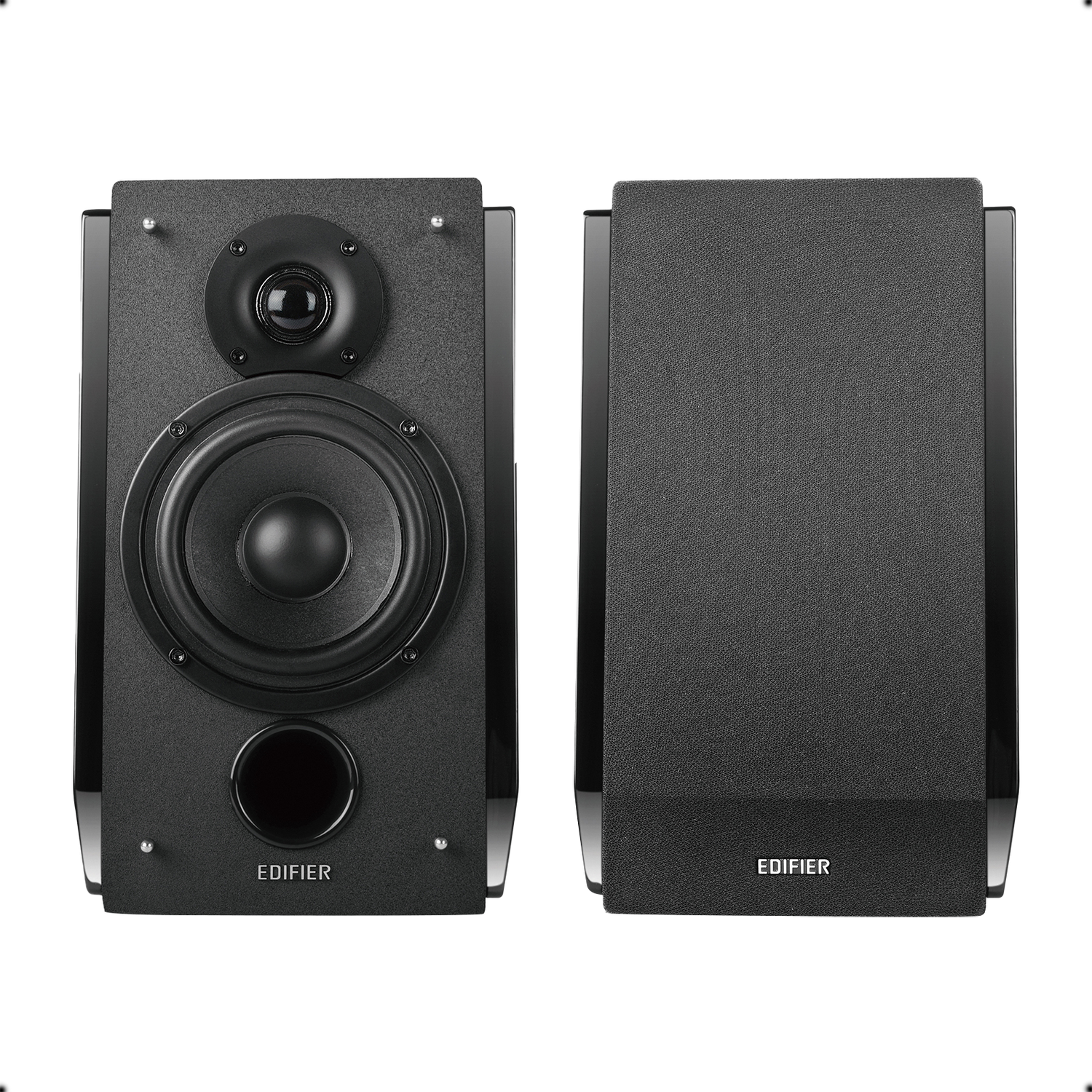 New Technology Familiar Design
Bringing back old school design with the latest technology. The R1850DB is an active 2.0 bookshelf speaker system designed at a 10-degree angle to accurately direct sound to you in the luxurious MDF wooden enclosure geared to minimize acoustic resonance. The mid woofer output produces quality sound and performance. The bass vibrates any room or space it inhabits, creating an ideal atmosphere for entertainment. The R1850DB is classic and fun with the latest Bluetooth technology allowing playtime from phones, tablets or laptops. When thinking of the R1850DB bookshelf speakers the first thing that comes to mind is balance; the perfect balance of function and design.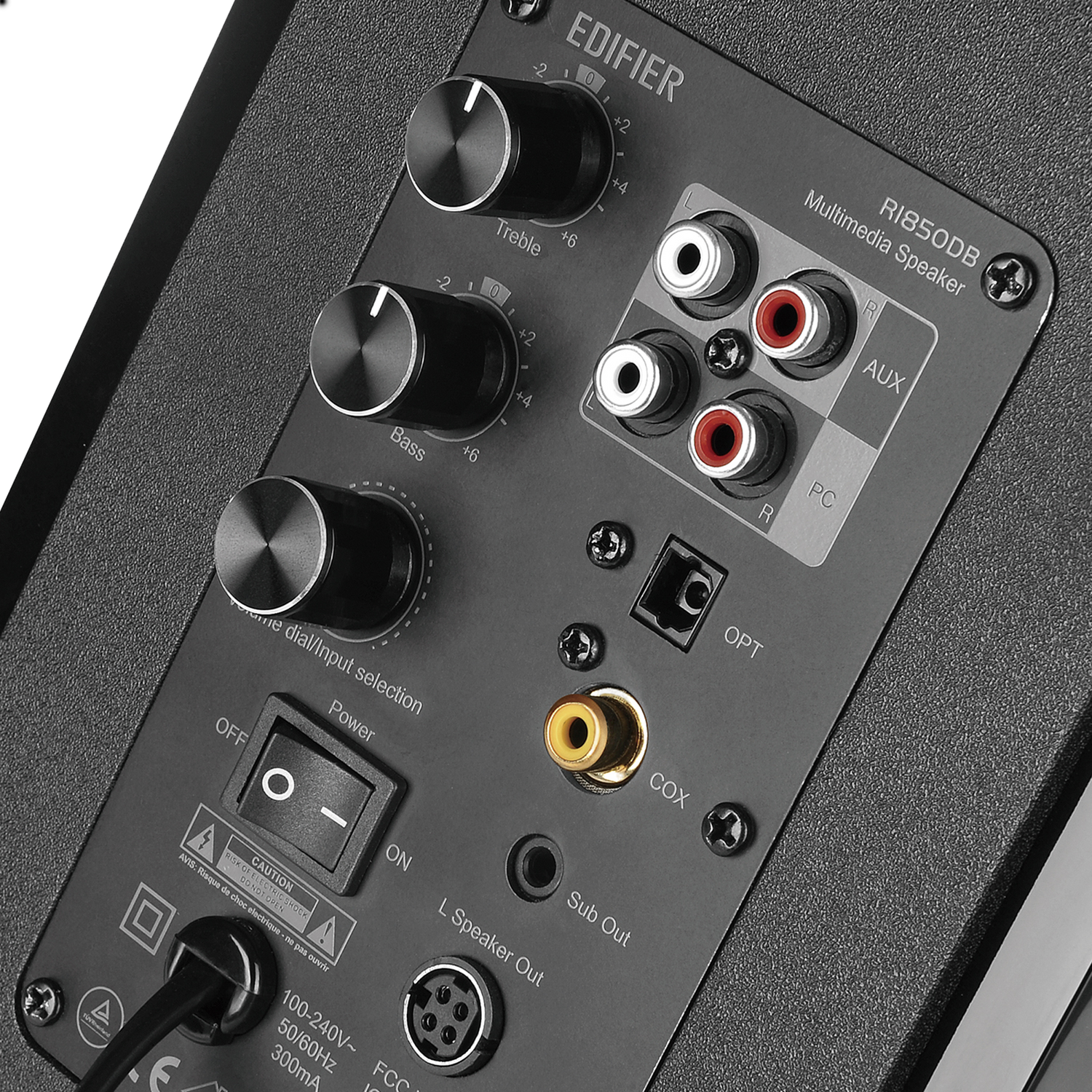 Comprehensive Controls
The R1850DB comes with a fully featured remote for the set of bookshelf speakers. Adjust the volume, switch inputs, mute the speakers and control Bluetooth connected playback all from your fingertips. The design of the remote with its modern sleek feel puts the power in your hands. Its easy to use and fits right in the palm of you hand providing the ultimate comfort. Edifier makes it easy on you with the simple remote commands for the R1850DB bookshelf speakers. Inputs are accessible with clear and concise functionality complimenting the manual.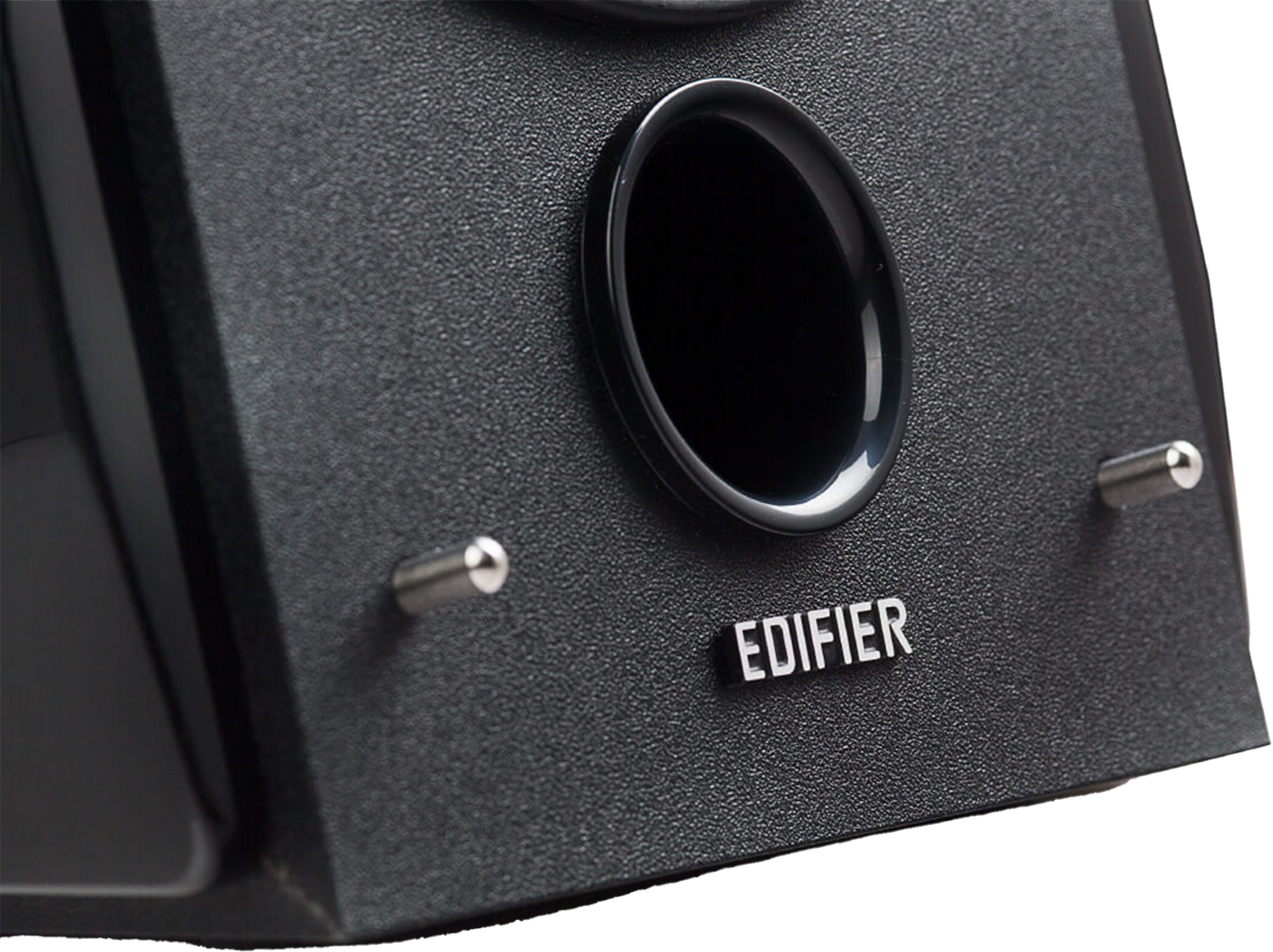 Angle Design Directs Sound
Every aspect of Edifier's R1850DB bookshelf speakers are designed with purpose. The medium-density fiberboard [MDF] enclosure reduces distortion and minimizes acoustic resonance. The base of the speaker is angled at a 10-degree incline for dynamic precision and delivery. The design of the angle directs sound from the woofers right to your ears producing 70 watts of balanced quality tunes. Edifier's R1850DB active bookshelf speakers are a stand out in both categories of style and performance. Its 4-inch midrange/woofer speaker drivers create rich lows. Meanwhile, the treble units produce clear highs. A perfectly tuned bookshelf speaker to suit your needs.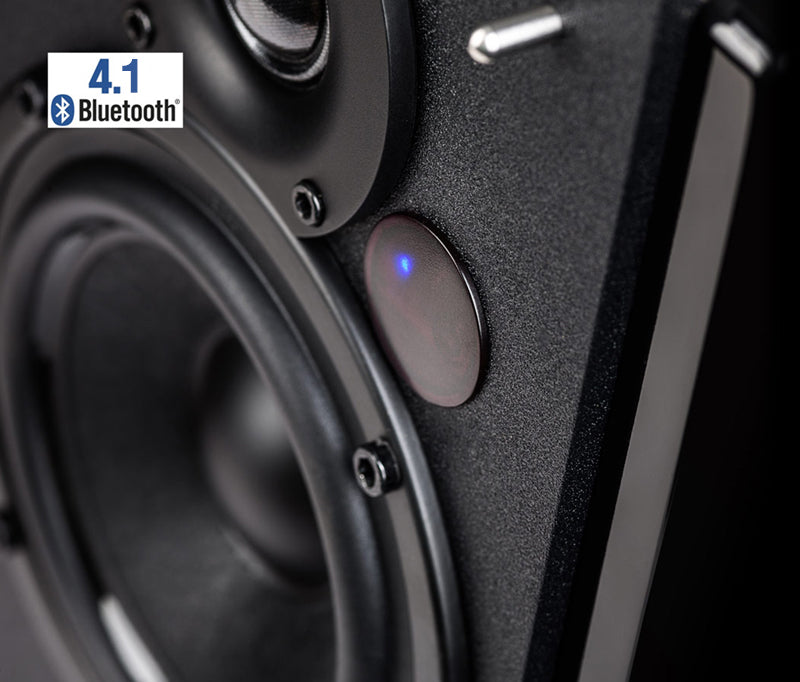 Bluetooth and More
A familiar design meets new technology. Featuring Bluetooth 4.1, the R1850DB bookshelf speakers can be paired with any device. Simply sync your smartphone, tablet or computer and listen to your favorite music, videos or games. The latest Bluetooth 4.1 wireless technology is great for playing from multiple devices. INCLUDED IN THE BOX
User manual
Remote control
Speaker connecting cable
RCA audio cable
RCA to RAC audio cable
Fiber optic input cable
SOUND

FREQUENCY RESPONSE

SIGNAL-TO-NOISE RATIO

THD + N

TWEETER UNIT

BASS UNIT
DESIGN
POWER
CONNECTIVITY

IINPUT SENSITIVITY

PC:700±50mV
AUX: 550±50mV
FAQs
Why can't I hear any sound?

Confirm that the power indicator light is illuminated.
Attempt to increase the volume.
Ensure that the audio cables are correctly and securely connected.
Confirm that the input settings on the speakers are configured correctly.
Check if the audio source is actively delivering a signal output.
Why can't I turn on the speakers?

Connect the main power source of your speakers.
Activate the wall outlet connected to your speakers.
Why can't I connect my speakers via Bluetooth?

Confirm that your speaker is set to Bluetooth mode and disconnect any other paired devices.
Ensure that you are operating within a Bluetooth transmission range of no more than 10 meters.
Attempt to establish a Bluetooth connection with an alternative Bluetooth device.
Why Buy from Us?
Authorized Retailer

Hassle-Free Return

Local Fast Shipping

30 Days Money-Back Guarantee
We are an authorized retailer of Edifier products, ensuring that you receive genuine and high-quality items directly from the manufacturer.
We offer a hassle-free return and exchange policy, allowing you to shop with confidence. If you need to cancel an order or make changes, we make the process easy and convenient.
We prioritize fast shipping, ensuring that your Edifier products reach you promptly and securely. As a local seller, we strive to provide a seamless shopping experience.
We stand behind our products. If you are not satisfied with your purchase, we offer a 30-day money-back guarantee, giving you peace of mind and assurance.