Studio quality sound

A 4" bass unit and 13mm silk dome tweeters provide the kick you need to output top quality audio.

Dual RCA inputs

Sick of plugging and replugging different devices. Connect two at once for added convenience.

Wireless Remote

Get access to volume, treble, bass and more at your fingertips with an easy-to-use remote.
R1280T Powered Bookshelf Speakers
Regular price

Sale price

$139.00
Universal power supply (100-240V)
Dual RCA inputs for connectivity to multiple audio sources
Wireless remote control for volume adjustment and mute
1 Year Warranty
Free Shipping Over $49.99
30 Day Return Policy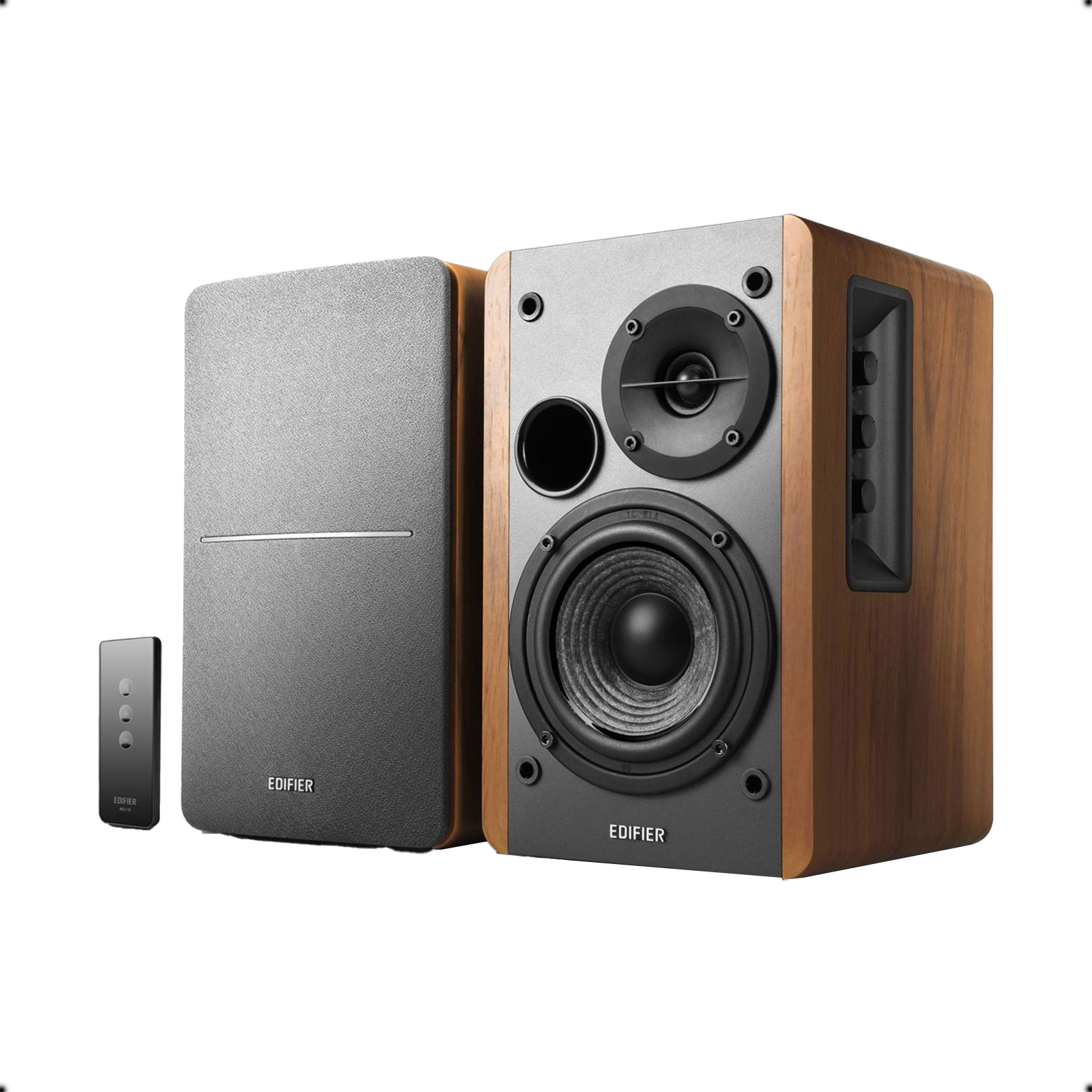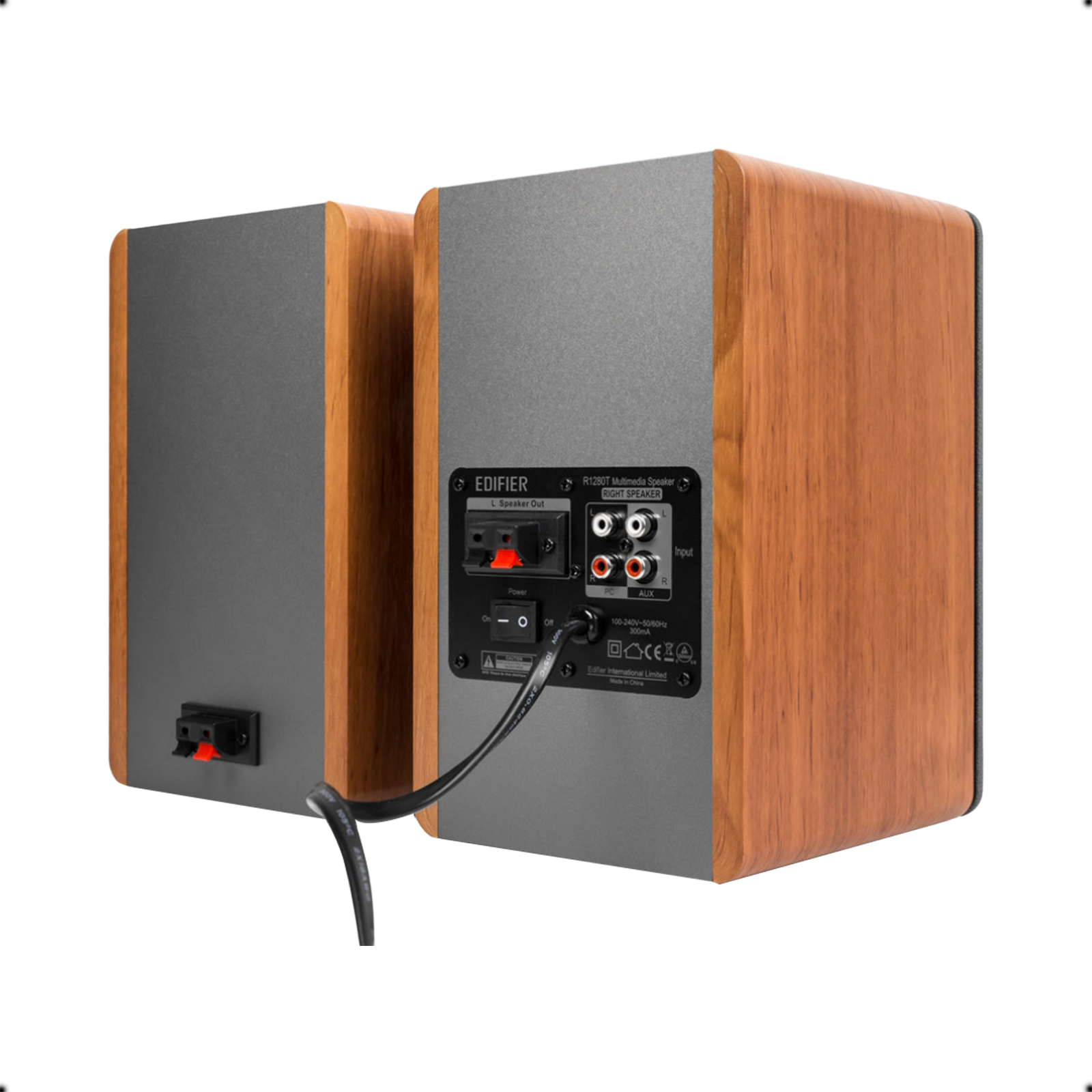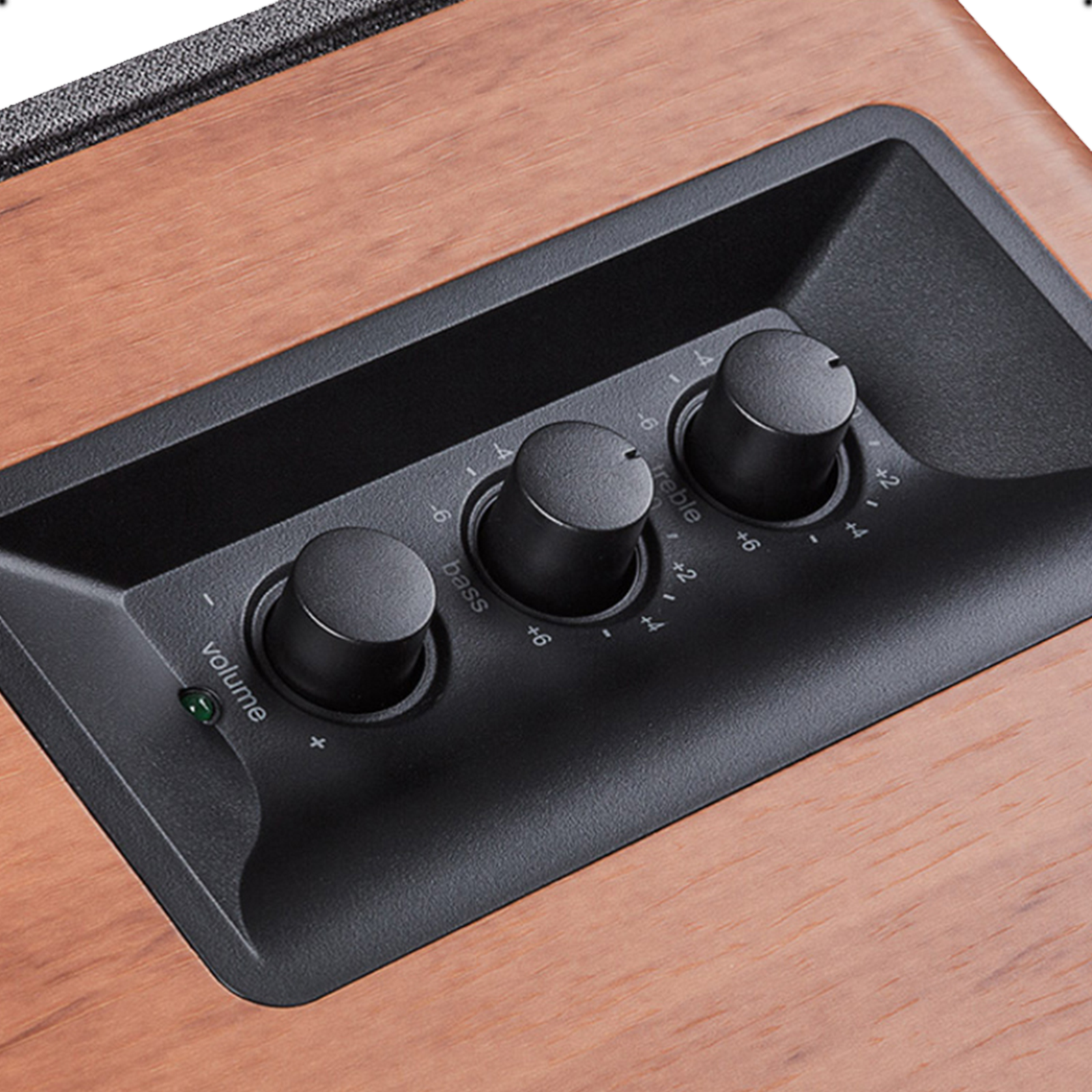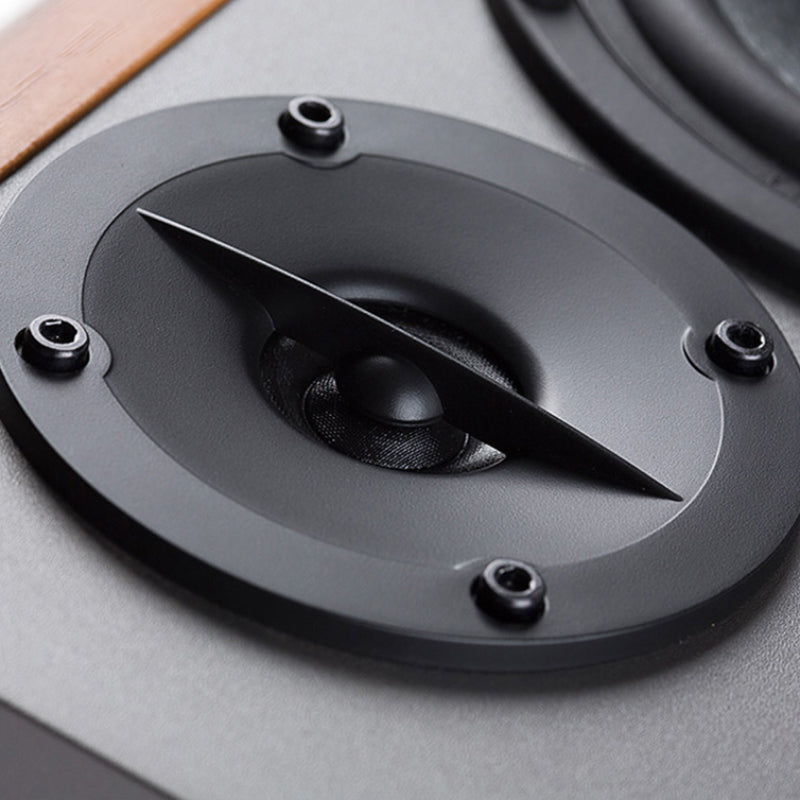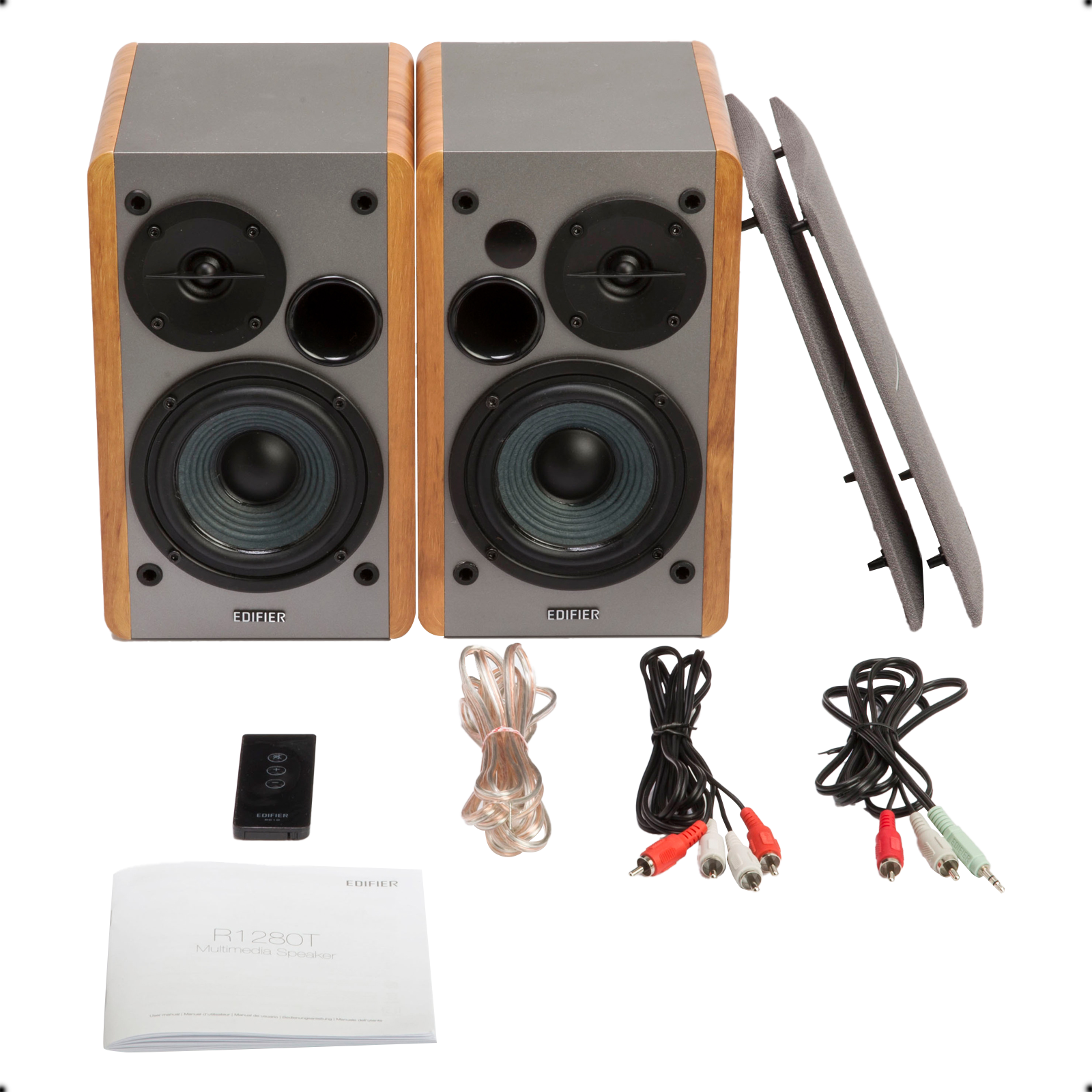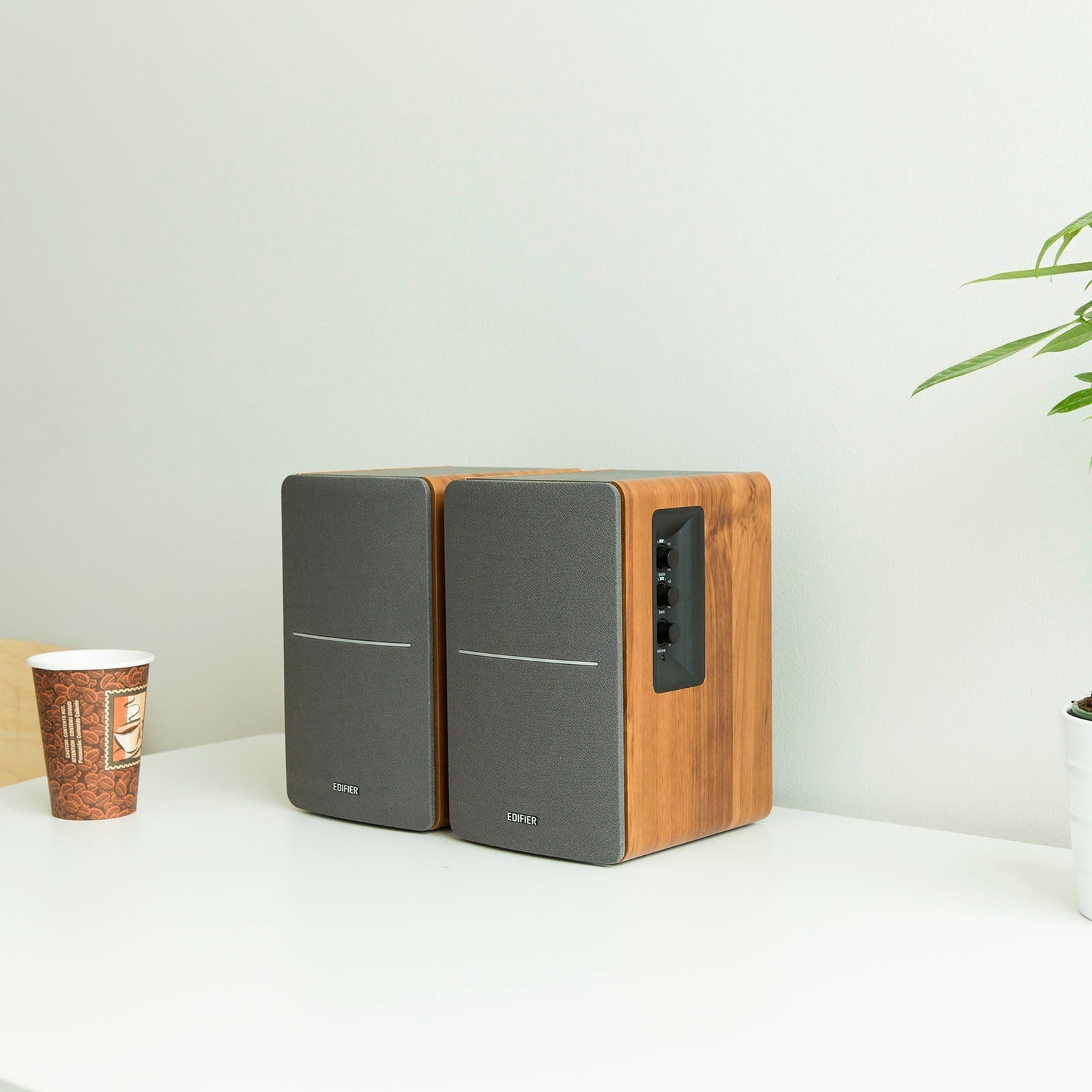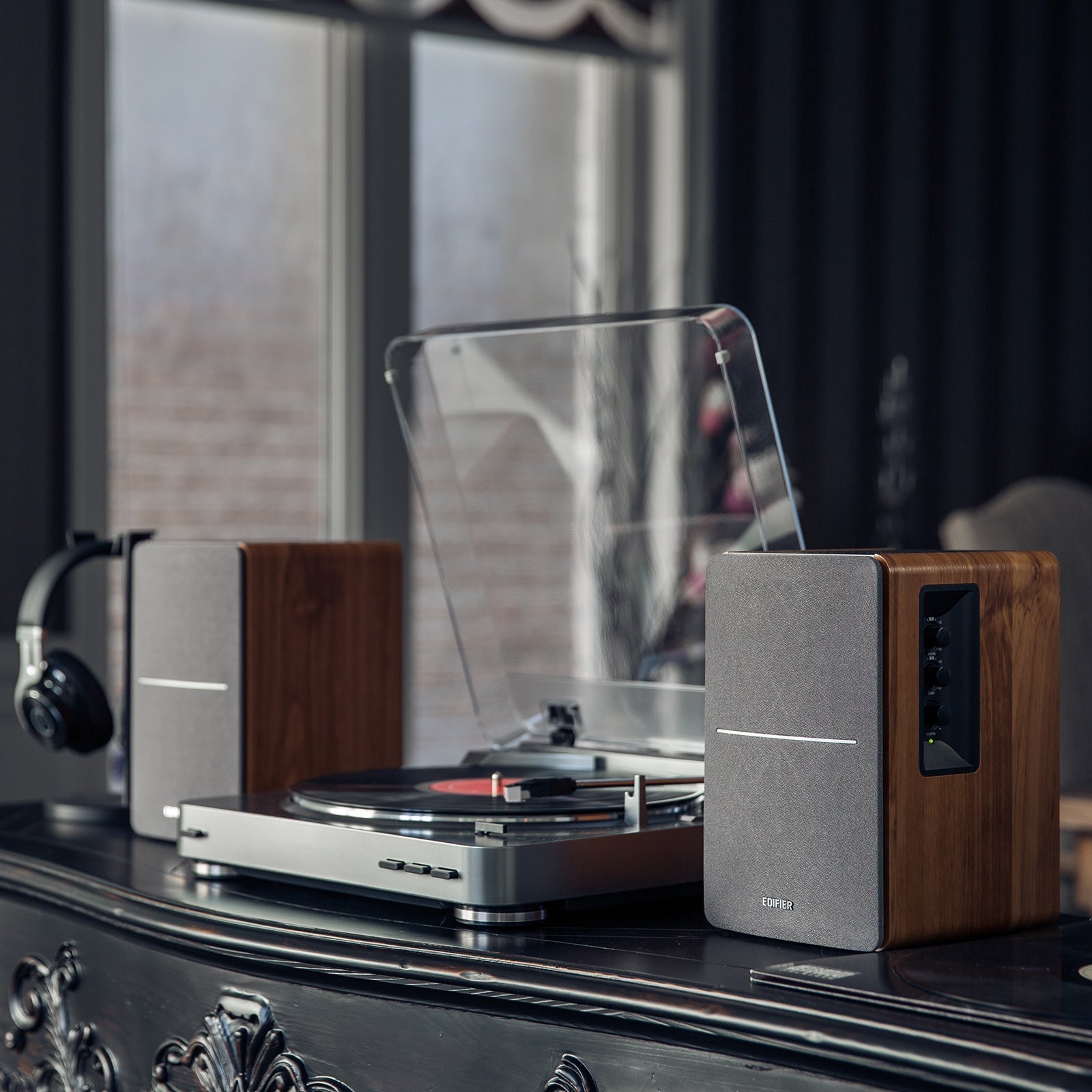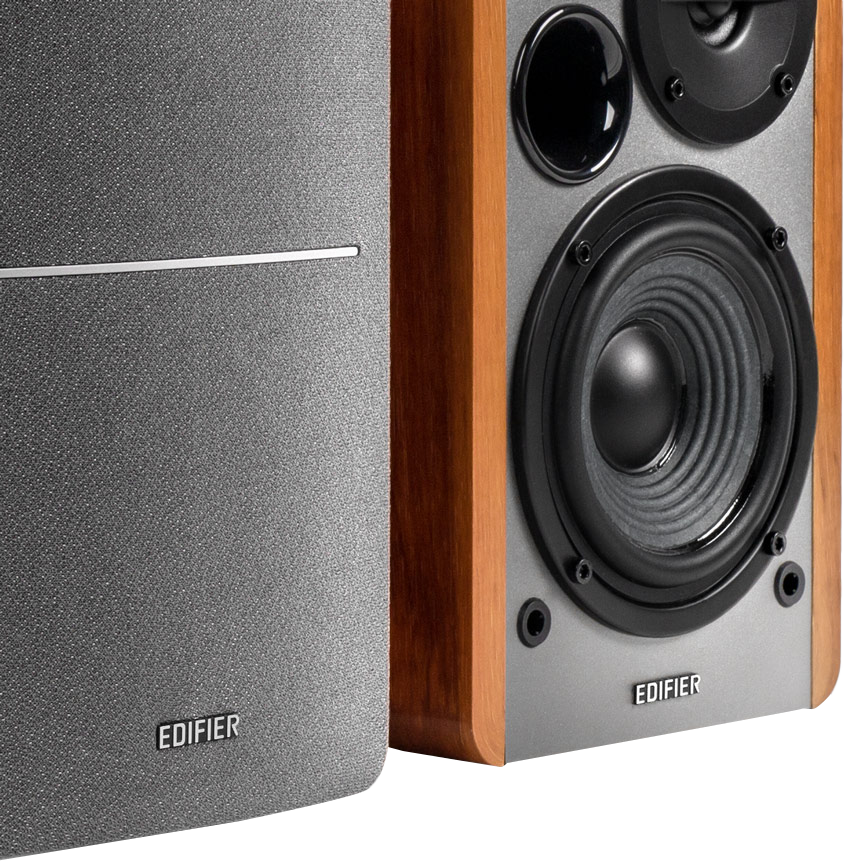 Reliable Performance
The R1280T powered bookshelf speakers has combined a retro look with a modern sense of audio quality. If you're looking for affordable and versatile bookshelf speakers with uncompromising sound the R1280T bookshelf speakers is your go-to 2.0 speaker system. Featuring a 4-inch bass driver and a calibrated, flared bass reflex port, this bookshelf speaker system delivers robust, rich bass notes that are full of presence and depth. The faithful sound production and performance of the R1280T are any audiophiles dream. Most Edifier customers are using our R1280T powered bookshelf speakers for connecting their turntables for the best audio experience. Enjoy your classic vinyl's while enjoying the advancements in modern day audio technology.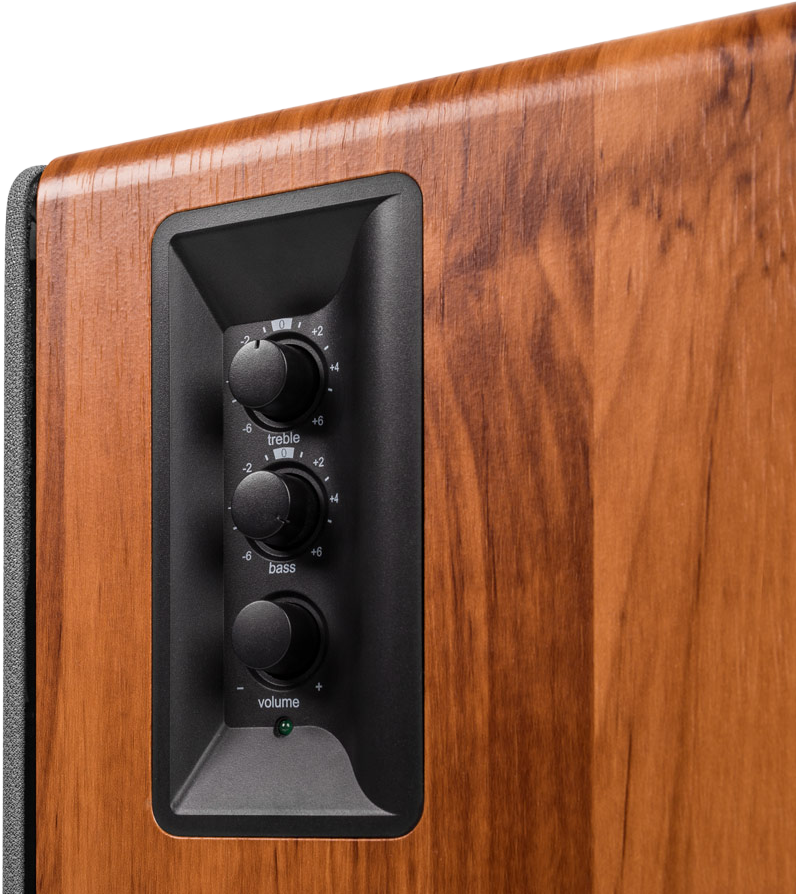 Precise Control
Personalize your listening experience with the bass, treble and volume dials on the active bookshelf speaker. The quality sound produced form these bookshelf speakers deliver a precise booming midrange that tantalizes any reviewer. A compact sized handy remote control is included. You can adjust the volume and set the speakers to mute when needed without having to reach the speakers; power and perfection at your fingertips. The Edifier R1280T comes with built-in tone control at the side of the active speaker. Depending on the preference, you can make micro adjustments of treble and bass from -6 to +6 db. Digital volume control is automatically set to a comfortable level everytime the speakers are powered on.
Dual RCA Input
R1280T powered bookshelf speakers lets you connect to multiple audio devices using the dual RCA inputs. By looking at the back panel you can easily tell one of these is a passive speaker and one is an active speaker. The active speaker has two inputs located on the back. These inputs are perfect for RCA to RCA or RCA to AUX connections. Connect them to a PC, laptop, tablet, phone or record player. The speakers are connected to each other via regular speaker wire. The variety of cables included ensures our customer enjoy their music from most devices right out of the box. INCLUDED IN THE BOX
User Manual
Remote Control
Speaker Connecting Cable
RCA to RCA Audio Cable
3.5mm to Dual RCA Audio Connecting Cable
SOUND

SIGNAL-TO-NOISE RATIO

DISTORTION

SUBWOOFER / BASS UNIT

TWEETER UNIT

Φ13mm silk domed tweeter, 4Ω
DESIGN

WEIGHT

DIMENSION

5.75in x 9.5in x 7in (WxHxD)
146mm x 234mm x 196mm (WxHxD)
POWER
CONNECTIVITY
FAQs
Are these speakers bluetooth?

No, these speakers do not have Bluetooth capabilities.
Does the front plate come off?

Indeed, the front plate can be removed.
Why doesn't my R1280T turn on?

Please ensure that the main power connection is properly established, and confirm that the wall outlet to which the speakers are connected is switched on.
Why can't I hear any sound from these speakers?

Verify that the power indicator light is illuminated.
Attempt to increase the volume using either the master volume control or the remote control.
Ensure that the audio cables are securely connected, and double-check that the input settings on the speakers are configured correctly.
Confirm if there is an active signal output from the audio source.
Will they work well as TV/home theater speakers?

While these Edifier speakers are primarily designed for use with computers, they can still serve as TV or home theater speakers. However, their performance and features may be optimized for computer use, so they may not provide the same level of audio quality and functionality as dedicated TV or home theater speakers. If you plan to use them for this purpose, it's essential to assess whether they meet your specific audio and connectivity requirements.
Why Buy from Us?
Authorized Retailer

Hassle-Free Return

Local Fast Shipping

30 Days Money-Back Guarantee
We are an authorized retailer of Edifier products, ensuring that you receive genuine and high-quality items directly from the manufacturer.
We offer a hassle-free return and exchange policy, allowing you to shop with confidence. If you need to cancel an order or make changes, we make the process easy and convenient.
We prioritize fast shipping, ensuring that your Edifier products reach you promptly and securely. As a local seller, we strive to provide a seamless shopping experience.
We stand behind our products. If you are not satisfied with your purchase, we offer a 30-day money-back guarantee, giving you peace of mind and assurance.