Premium tweeter and bass unit

Enjoy our highest quality 3-dimensional sound and reduce the impact of room reflected sound in your audio. Dampening material is used to reduce undesirable sound reverberation.

Designed from the ground up by Phil Jones

All technical and design aspects of the A300 were personally crafted by famed audio engineer, Phil Jones, to reflect our commitment to providing affordable studio-quality sound.

Wireless with built-in amp and multiple inputs

AirPulse goes wireless! A variety of available input options, including Optical, Coaxial, Bluetooth 5.0 aptX, RCA, AUX, and USB for all your personal audio needs.
Airpulse A300 Hi-Res Wireless Plug-in Speaker System
Regular price

Sale price

$1,799.00
6.5-inch mid woofer
65mm ribbon tweeter
HiRes Audio with Built-in amp
Bluetooth, USB, optical, RCA inputs
1 Year Warranty
Free Shipping Over $49.99
30 Day Return Policy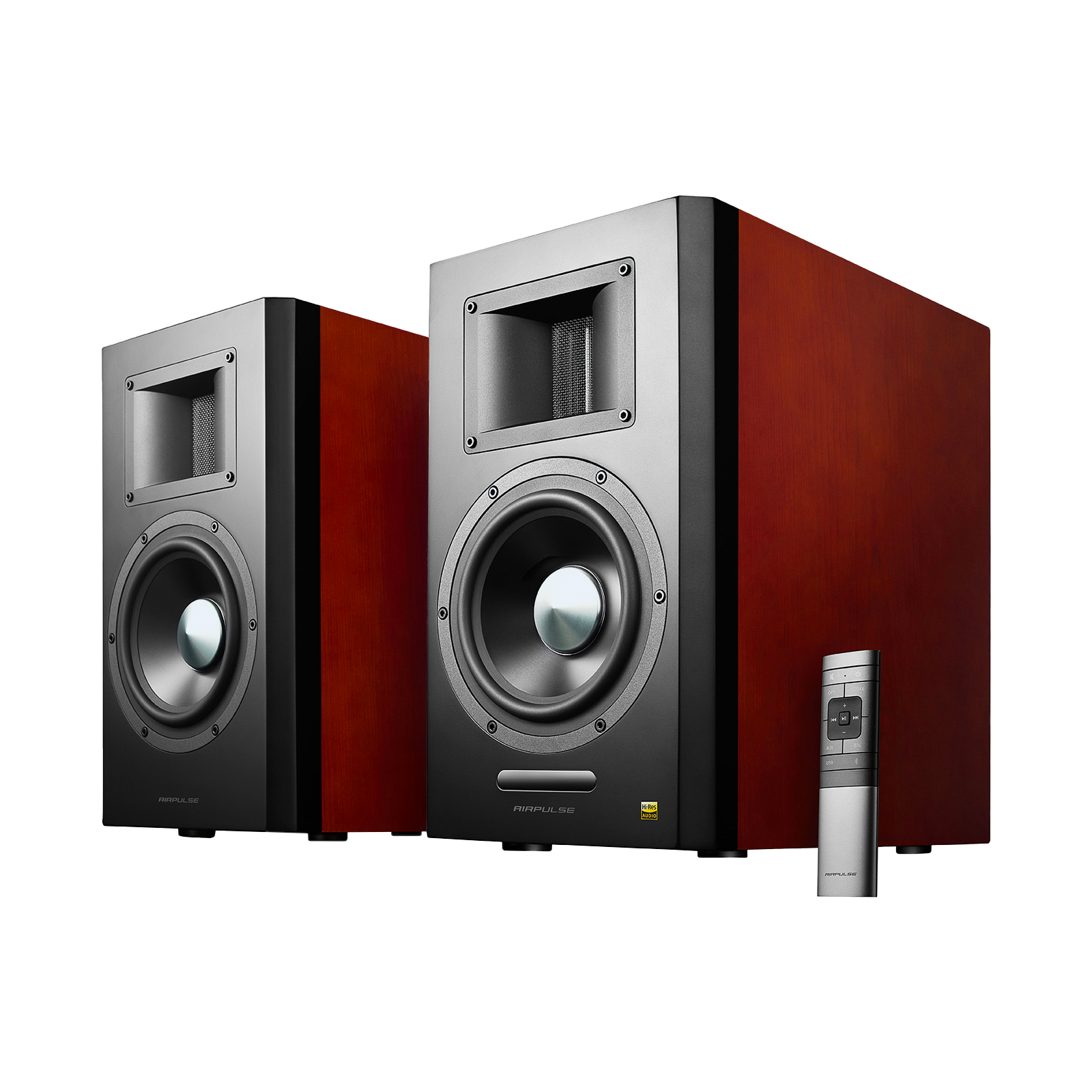 Active Bookshelf Speaker - Hi-Res Audio Certified
The A300 speakers combine the quality of a reference monitor and retro wood styling into an active bookshelf speaker. Simplicity married to quality is our motto with AirPulse. Connect the speakers to each other with the connecting cable and connect the speaker to your audio source directly with included cables. These speakers are sold in pairs out of the box and includes a remote.
65mm Aluminum Ribbon Tweeter
The A300 uses a thin aluminum horn loaded ribbon tweeter which extends frequency range and a well-defined resolution reaching to 40KHz high frequencies. The horn shape adds to a three-dimensional sound as the ribbon tweeter is aimed at the listener and minimizes unwanted effects from room reflection.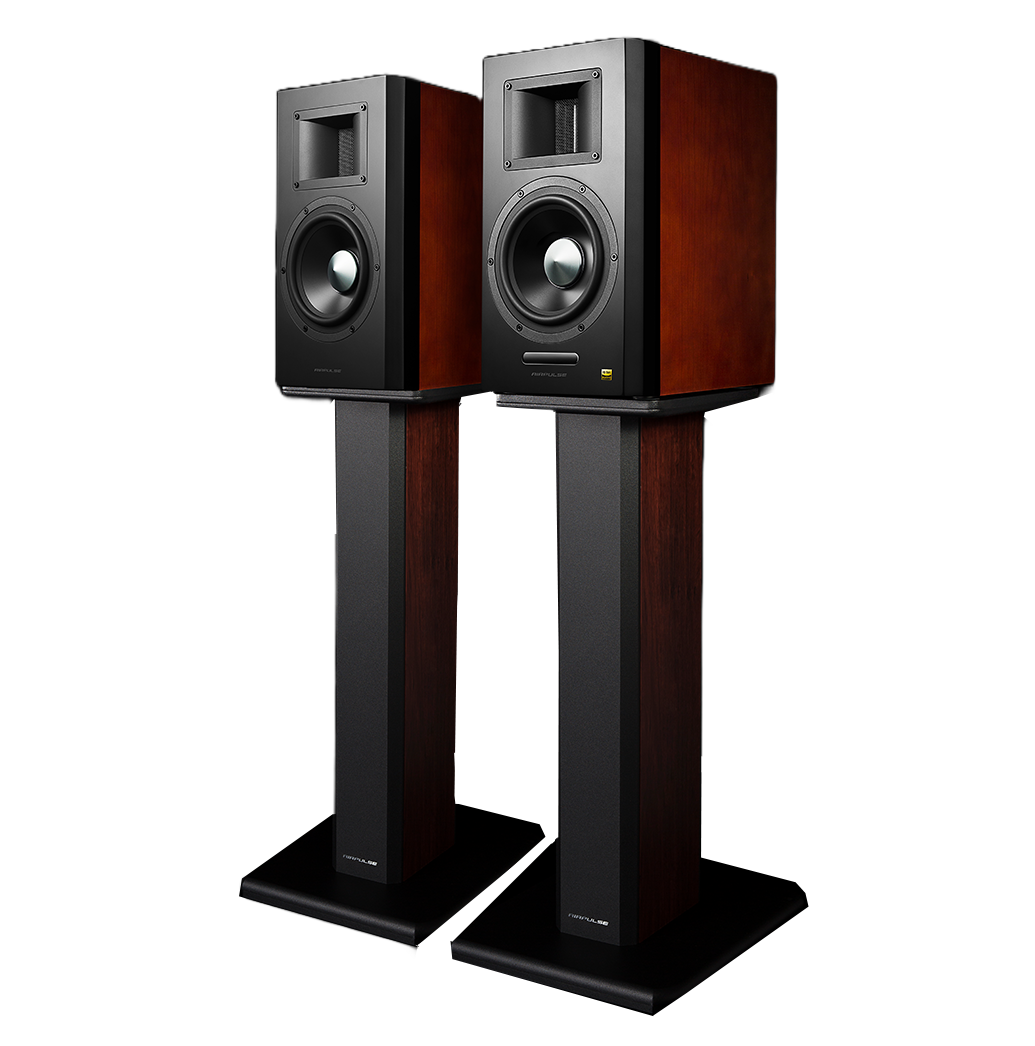 6.5-Inch Aluminum Mid-Woofer
The A300 active bookshelf speaker is equipped with a 6.5-inch aluminum alloy cone mid-range woofer unit. Each magnet has a 50mm diameter edge-wound copper clad aluminum ribbon voice coil for maximum linear excursion and control.
ST300 Stands
Elevate your experience with the ST300 speaker stands from AirPulse. Made exclusively with the A300 active bookshelf speakers in mind.
DESIGN
AirPulse's A300 is designed by Phil Jones. The technical and aesthetic designs are combined to create a next generation of audio. The cabinets are made from 25mm MDF and finished with a cherry wood veneer finished in satin lacquer. The cabinet is lined with a 36mm professional-grade sound absorption material reducing unwanted resonance.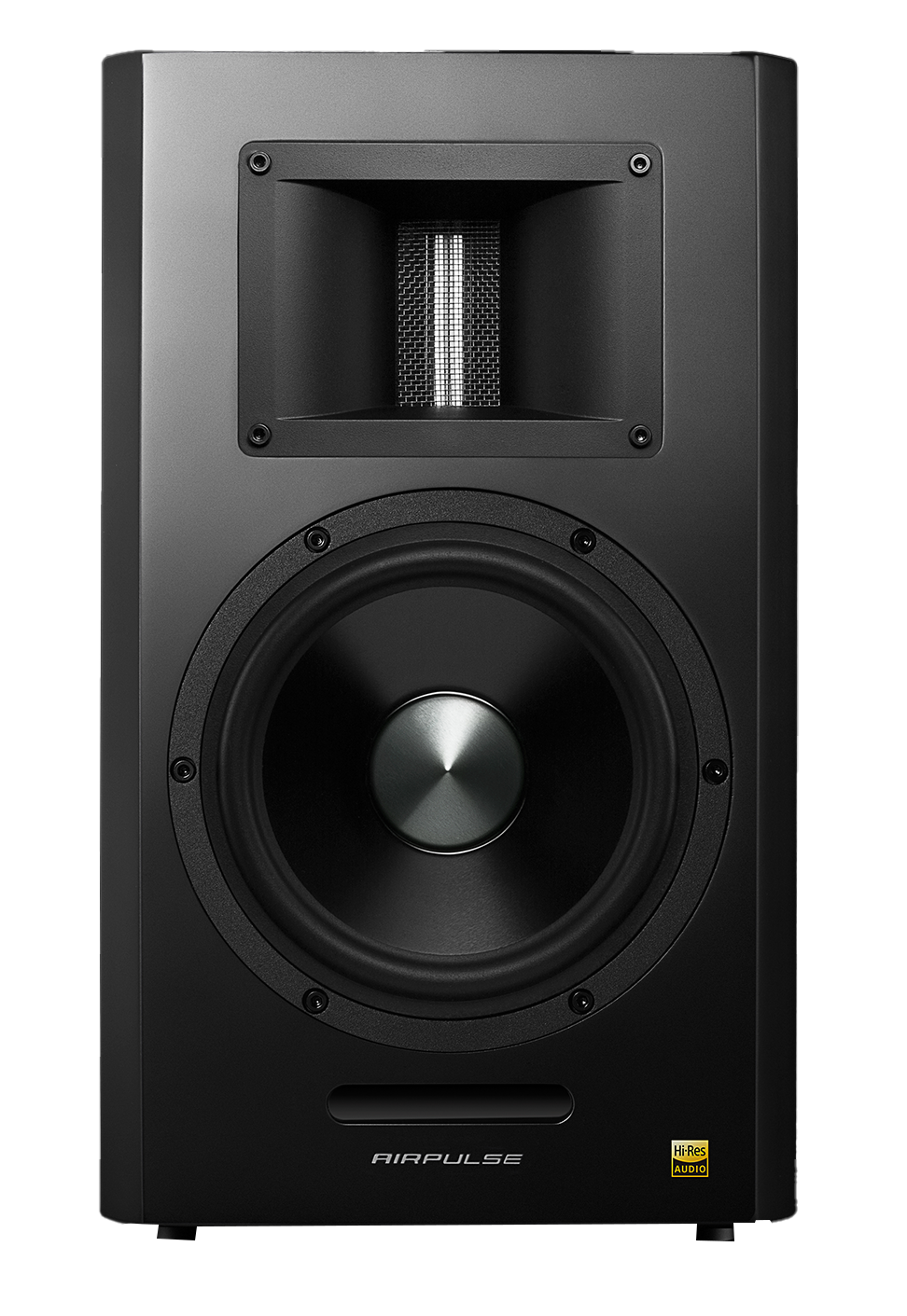 Built-in Amplifier and Receiver Components
The built-in amplifier uses 3 parts of the TAS5754 Class-D amplifier chipset from Texas Instrument. Two chips are bridged in parallel driving the left and right woofers. Meanwhile, the third chip is set in bridge mode for both tweeters.
Digital Audio Inputs
The SPDIF receiver uses a PCM 9211 from Texas Instrument that supports up to 216KHz input with a low output audio signal delivered to the XMOS processor with zero loss. The USB audio interface supports UAC2 audio with input sample rate of 192KHz avoiding signal degradation and dynamic range loss via the PC audio DAC.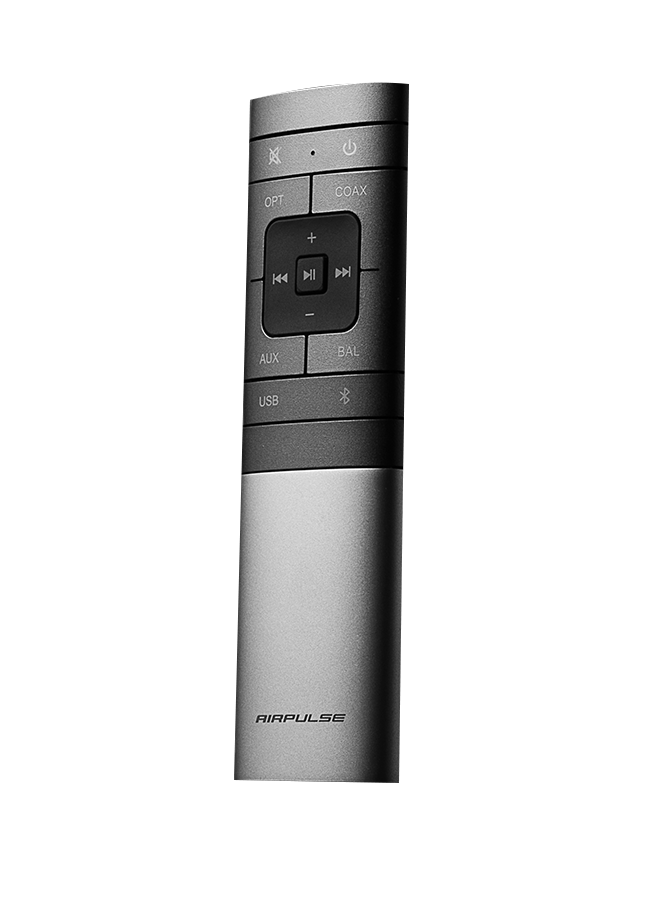 Remote Control
Included with the pair of speakers is a wireless remote that allows you to switch between inputs adjust volume and mute your speakers from a distance.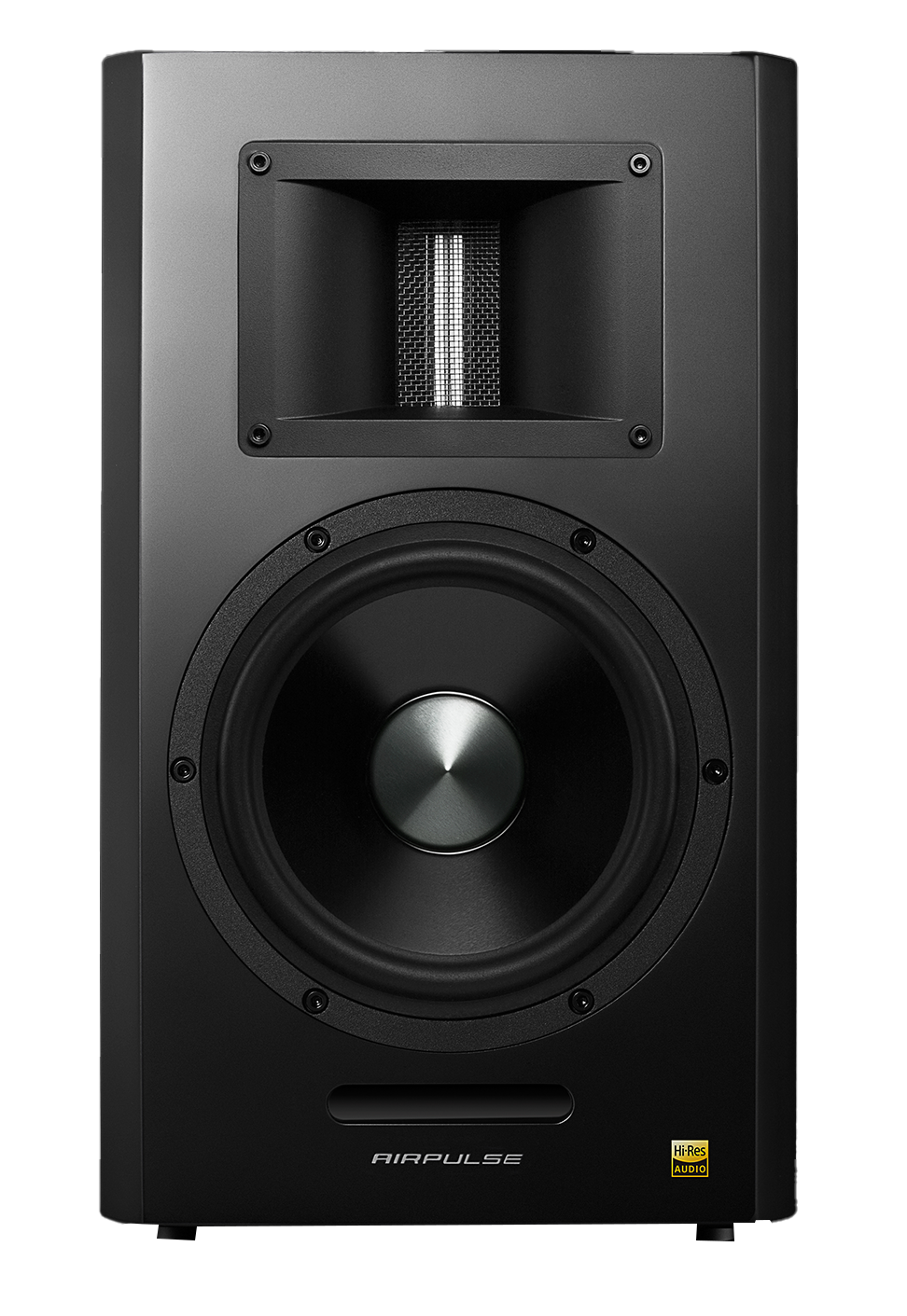 Back Panel & Inputs
Connect your phone, laptop, computer and other devices with the following inputs. AUX, RCA, optical, coaxial, USB, professional balanced input, and Bluetooth. The Bluetooth input uses version 5.0 and has support for aptX codec. Bass, treble and volume controls are located on the back panel.
SOUND

TWEETER UNIT

Horn Loaded Ribbon Tweeter

MID-WOOFER

6.5inch Aluminum Cone Underhung Design Neo. Power Mid-Woofer

AMPLIFIER SYSTEM

Digtal Amplifer With Xmos Processor

FREQUENCY RANGE

SIGNAL-TO-NOISE RATIO
DESIGN

CABINET SIZE

NET WEIGHT

WEIGHT
POWER

TOTAL POWER OUTPUT

L/R(Treble):10W+10W,
L/R(Woofer): 70W+70W
CONNECTIVITY

INPUT TYPE

AUX
Balance Input
USB
Optical
Coaxial
Bluetooth

INPUT SENSITIVITY

AUX:700±50mV
Balance:1150±50mV
USB:550±50mFFs
Optical:500±50mFFs
Coaxial:500±50mFFs
FAQs
Why can't I hear any sound?

Kindly review the following aspects:

Ensure that the power indicator light is illuminated.
Attempt to increase the volume level.
Verify the correct and secure connection of audio cables.
Confirm that the input settings on the speakers are accurately configured.
Ascertain that the audio source is actively delivering a signal output."
Why can't I turn on the speakers?

You can initiate the power-up sequence through either of the following methods:

Connect the primary power source of your speakers.
Activate the wall outlet connected to your speakers.
Why did noises coming from my speakers?

To address this issue, please take the following steps:

Transition the speaker system to an active mode.
Disconnect the audio source.
Verify that no abnormal noises are audible from a distance of 1 meter away. If no issues persist at this distance, the speakers should operate without any problems.
Why can't I connect my speakers via Bluetooth?

Please consider the following steps:

Confirm that your speaker is set to Bluetooth mode and disconnect any other paired devices.
Ensure that you are operating within a transmission range of no more than 10 meters.
Experiment with an alternate Bluetooth device for the connection attempt."
Why Buy from Us?
Authorized Retailer

Hassle-Free Return

Local Fast Shipping

30 Days Money-Back Guarantee
We are an authorized retailer of Edifier products, ensuring that you receive genuine and high-quality items directly from the manufacturer.
We offer a hassle-free return and exchange policy, allowing you to shop with confidence. If you need to cancel an order or make changes, we make the process easy and convenient.
We prioritize fast shipping, ensuring that your Edifier products reach you promptly and securely. As a local seller, we strive to provide a seamless shopping experience.
We stand behind our products. If you are not satisfied with your purchase, we offer a 30-day money-back guarantee, giving you peace of mind and assurance.