Ribbon tweeters & 5" woofer

Ribbon tweeters provide crisp, airy audio, while a 5" cast frame under-hung coil woofer with a hard anodized Aluminum cone for more powerful bass with less distortion.

Designed from the ground up by Phil Jones

All technical and design aspects of the A100 were personally crafted by Phil Jones, to reflect our commitment to providing premium studio-quality sound at non-premium prices.

Built-in amp with subwoofer output

Connect an optional subwoofer quickly and easily. A variety of input options, including, Optical, Bluetooth with aptX, RCA, AUX, and USB
Airpulse A100 Hi-Res Active Speaker System
Regular price

Sale price

$1,359.00
Hi-res audio certified
Silk-dome tweeters
5" mid woofer unit
Built-in Amplifier w/ subwoofer output
Optical, Bluetooth with aptX, RCA, AUX, and USB Inputs
1 Year Warranty
Free Shipping Over $49.99
30 Day Return Policy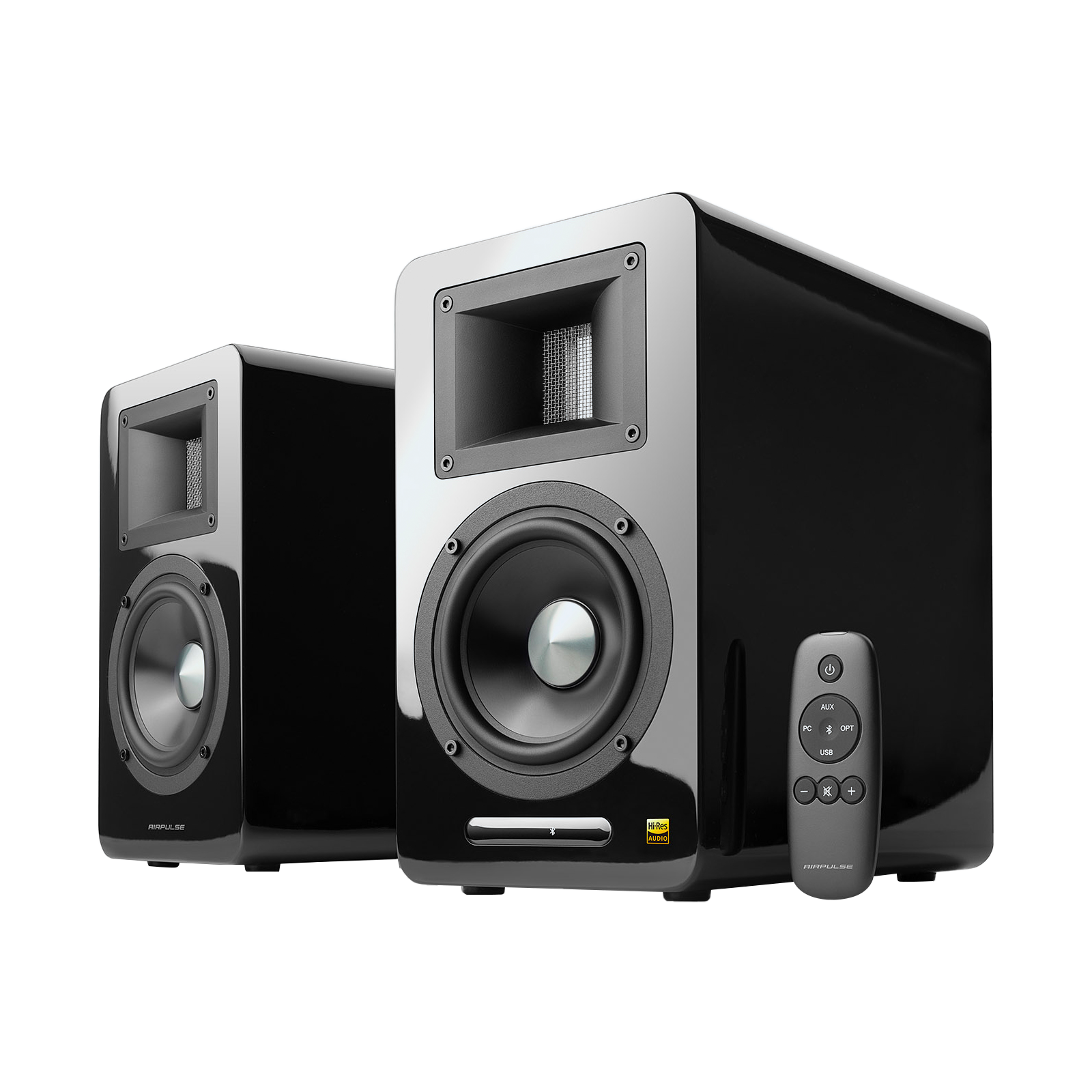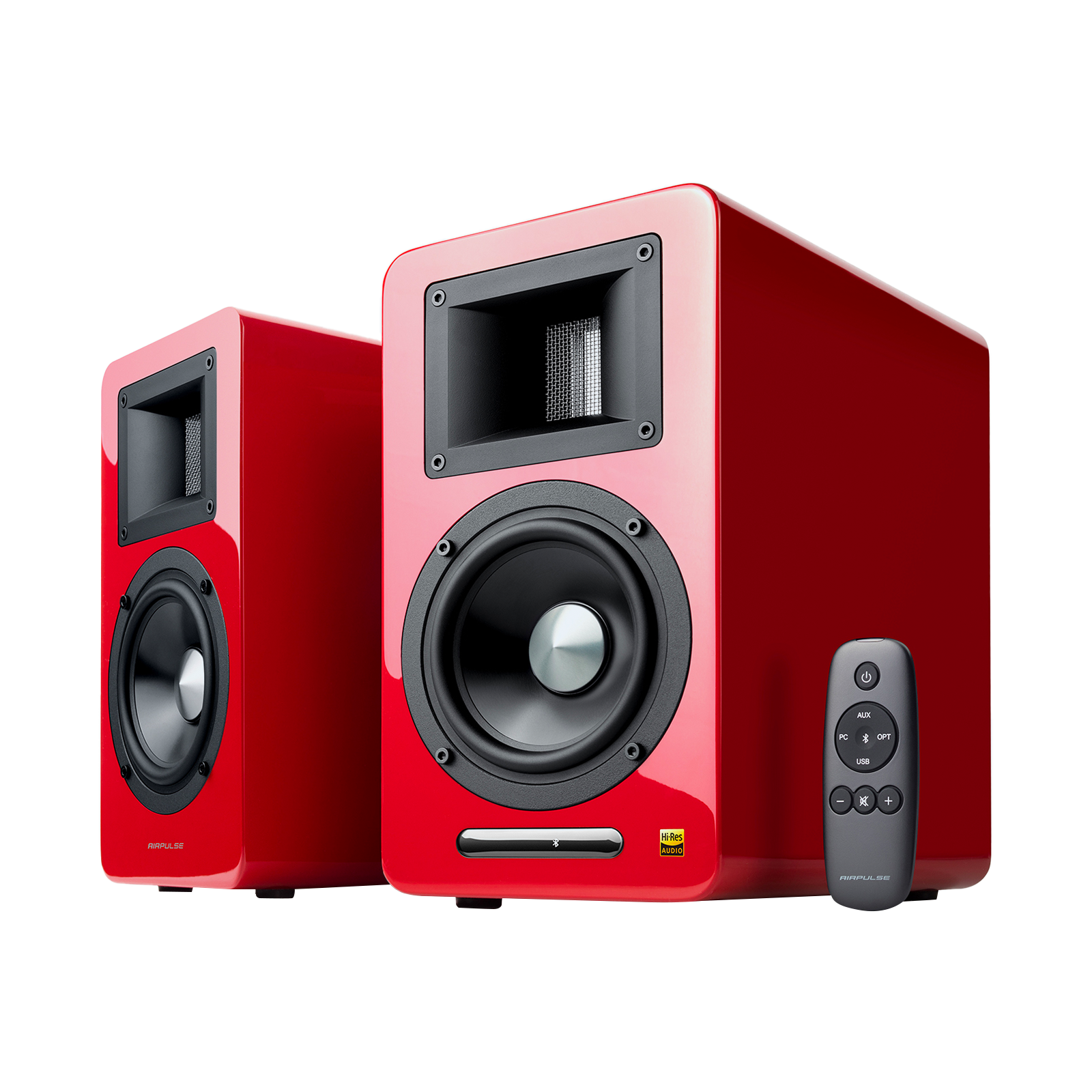 Hi-Res Audio Certified Active Bookshelf Speaker
The perfect set of speakers for your introduction to Hi-Res certified speakers. The A100 speakers are a fully featured set of active bookshelf speakers with multiple digital and analog inputs and are equipped with a subwoofer output for attaching an optional active subwoofer to reach the thundering lows of the audible spectrum.
Horn Loaded Ribbon Tweeter
This horn loaded ribbon tweeter is made from a thin aluminum diaphragm provides a high-sensitivity, extended frequency range and a well-defined resolution. The shape itself directs an optimized high-frequency directly to the listener minimizing room reflection and leading to a superior imaging of the speaker.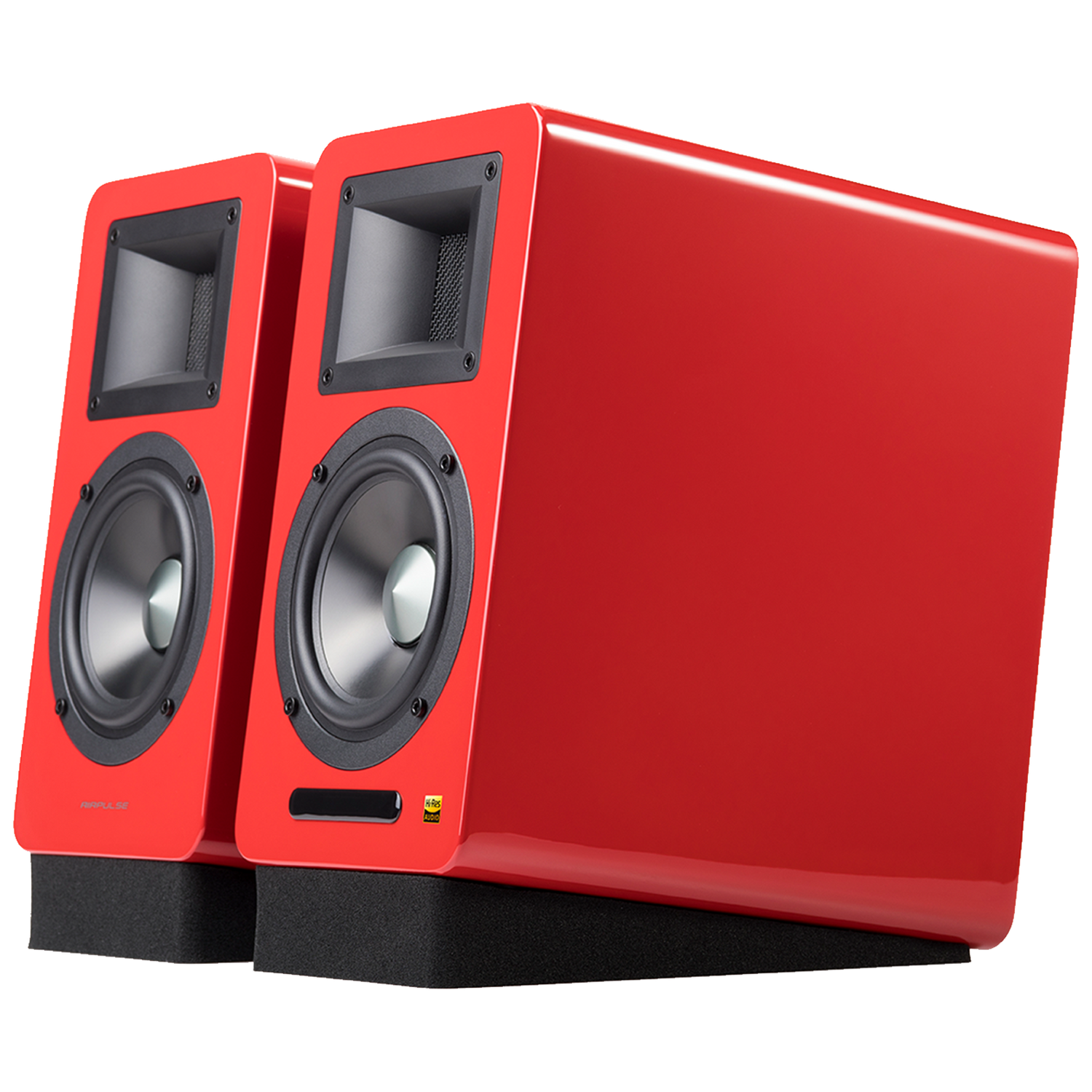 BE BOLD.
Stand out with the design of our speakers that speak to the modern-day sensibilities with its clean sleek angles. Choose from the striking black or stand out red and black cabinet housing. The bold highlighted cabinet from AirPulse adds a modern day feel to the décor of the room.
Technical and Aesthetic Designed by Phil Jones
Phil Jones' technical and aesthetic design blends together to create a new generation of sound. Each cabinet is made from 18mm thick high-strength MDF with a piano lacquer finish. The interior is lined with a professional-grade sound absorption material to reduce unwanted coloration in your sound.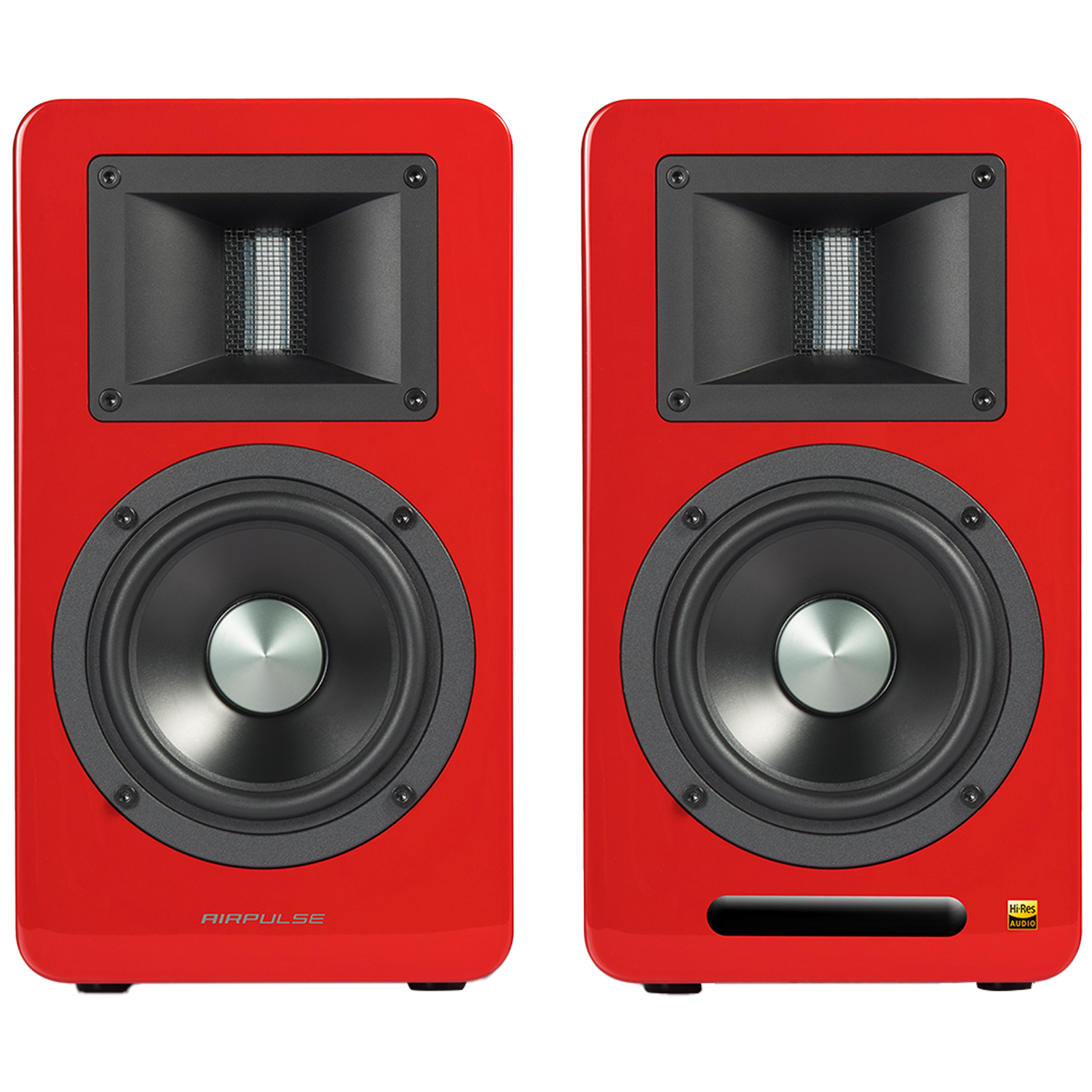 Built-in Amplifier and Receiver Components
The built-in amplifier is constructed with 2 parts of the TAS5754 Class-D amplifier chipset from Texas Instrument. This component combines high input sample rate support and high output PWM carrier frequency. Combining these two components achieves a low background noise and low distortion.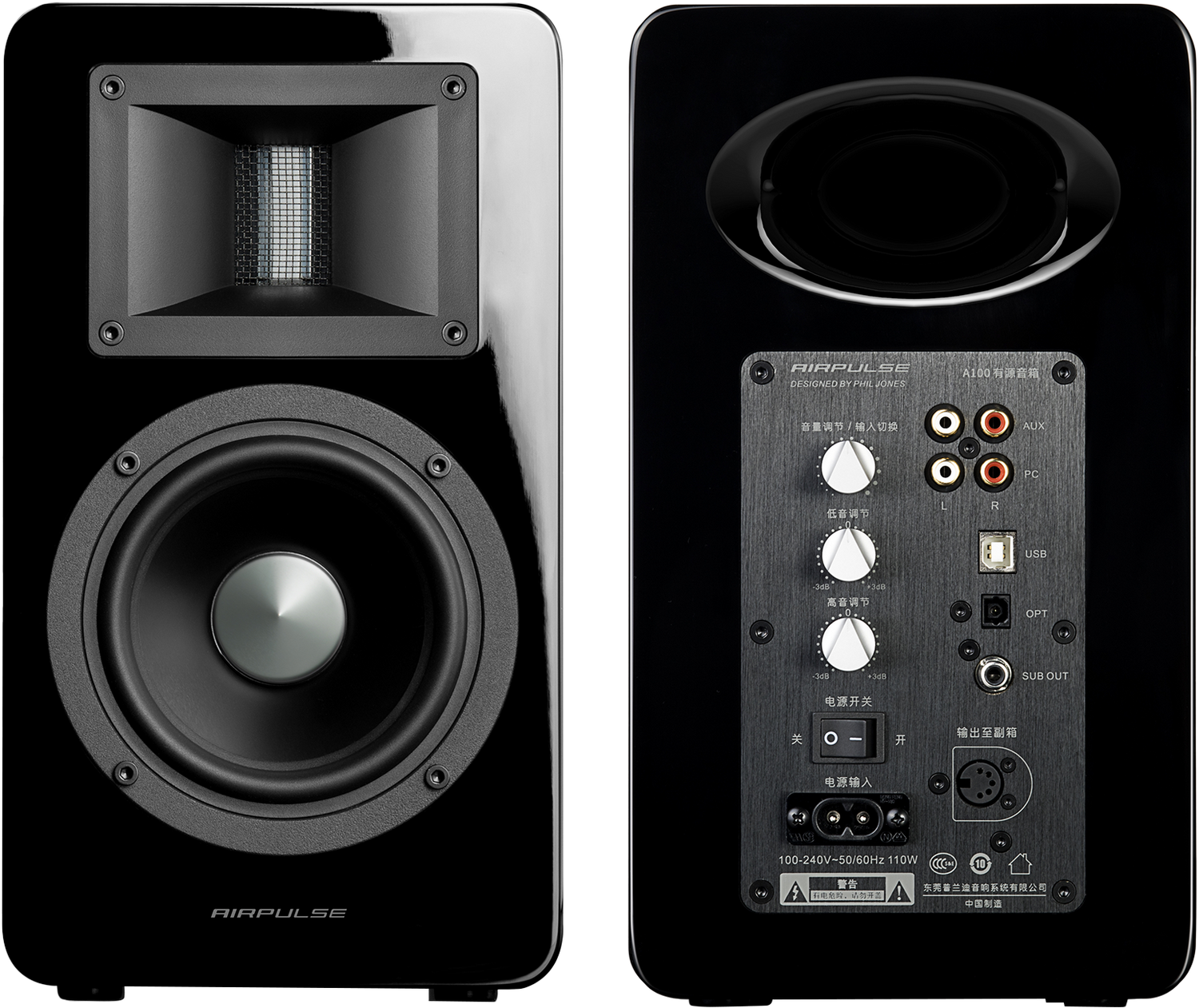 Fully Loaded Inputs and Subwoofer Output
The A100 is equipped with both digital and analog inputs. Connect your phone, laptop, computer and other devices with the following inputs. AUX, RCA, USB, Optical and Bluetooth. Both USB and optical inputs support up to 192KHz input sample. The Bluetooth input is support for aptX. Connect a subwoofer quickly and easily with available subwoofer out.
SOUND

TWEETER UNIT

Horn Loaded Ribbon Tweeter

MID-WOOFER

5 inch Aluminum Cone Underhung Design Neo. Power Mid-Woofer

AMPLIFIER SYSTEM

Digtal Amplifer With Xmos Processor

FREQUENCY RANGE

SIGNAL-TO-NOISE RATIO
DESIGN

DIMENSION

NET WEIGHT

WEIGHT

PACKING DIMENSION
POWER

TOTAL POWER OUTPUT

L/R(Treble)10W+10W
L/R(Woofer): 40W+40W

MAINS VOLTAGE
CONNECTIVITY

INPUT TYPE

INPUT SENSITIVITY

AUX:450±50mV
PC:550±50mV
USB:400±50mFFs
Optical:400±50mFFs
Bluetooth:500±50mFFs
Sub Out: 800mV(max)
FAQs
Why can't I hear any sound?

Check Power Indicator Light:

Verify that the power indicator light on the speakers is illuminated, indicating that the speakers are receiving power. If the light is not on, check the power source, outlet, and power switch.

Volume Adjustment:

Attempt to increase the volume using either the volume control on the speakers or the provided remote control. Ensure that the volume level is not set to minimum or muted.

Inspect Audio Cables:

Examine the audio cables for proper connection. Make sure they are firmly and correctly connected to both the speakers and the audio source. Ensure there are no loose or damaged cables.

Input Selection:

Verify that the correct input source is selected on the speakers. This can typically be done using the remote control or the volume knob. Ensure that the input corresponds to the audio source you want to use.

Audio Source Signal:

Confirm that the audio source is delivering an audio signal. Test the source with other devices to ensure it is functioning correctly. Additionally, check if there are any volume or mute settings on the source device that may be affecting the audio output.
Why can't I turn on the speakers?

To power on the speakers, you have two options:

Connect the Main Power of Your Speakers: This can typically be done by using a power button or switch on the speakers themselves. Look for a designated power button or switch, often labeled as "Power" or with a power symbol.
Switch on the Wall Outlet of Your Speakers: If your speakers are connected to an electrical outlet via a power strip or extension cord, you can turn them on by switching on the wall outlet itself. Ensure that the power strip or extension cord is connected to the wall outlet and switched to the "On" position.

By using either of these methods, you should be able to power on your speakers and begin using them.
Why can't I connect my speakers via Bluetooth?

Bluetooth Mode Selection:

Ensure that your speaker is switched to Bluetooth mode. This can typically be done by pressing a button with the Bluetooth symbol on the speaker or by using the speaker's remote control.
Disconnect any other devices that might be connected to your speaker to avoid interference.

Transmission Range:

Verify that the Bluetooth device you are trying to connect is within a reasonable range, typically within 10 meters (approximately 33 feet) of the speaker.

Try Another Bluetooth Device:

If you encounter difficulties with one Bluetooth device, attempt to connect another Bluetooth device to the speaker.
This helps determine whether the issue is specific to one device or if it's a broader problem with the speaker's Bluetooth functionality.
Why Buy from Us?
Authorized Retailer

Hassle-Free Return

Local Fast Shipping

30 Days Money-Back Guarantee
We are an authorized retailer of Edifier products, ensuring that you receive genuine and high-quality items directly from the manufacturer.
We offer a hassle-free return and exchange policy, allowing you to shop with confidence. If you need to cancel an order or make changes, we make the process easy and convenient.
We prioritize fast shipping, ensuring that your Edifier products reach you promptly and securely. As a local seller, we strive to provide a seamless shopping experience.
We stand behind our products. If you are not satisfied with your purchase, we offer a 30-day money-back guarantee, giving you peace of mind and assurance.